Ludwig van Beethoven's supposedly "last piano work" has been found by musicologist Peter McCallum, while studying the composer's final music sketchbook at the Berlin's state library.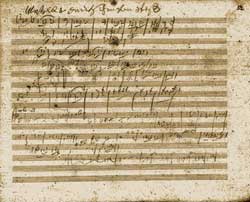 The 32 bars piece was found in the so called "Kullak sketchbook", one of Beethoven's working documents full of ideas, jotted notes and musical fragments. Mr McCallum noticed what he calls the "Bagatelle in F minor" in the middle of Beethoven's sketches for the String Quartet Op. 135.
Obviously it wasn't clear it was a piano piece instantly because Beethoven often used a chaotic sort of shorthand.
Mr McCallum said he believed the piece was written in October 1826, a few months before Beethoven's death in March 1827.
"I didn't know it was a piano piece until I actually sat down and tried to write it out," says McCallum. "Beethoven almost never used clefs or key signatures so you have to think about it … but once you do crack the code it's clear." Mr McCallum adds.
Mr McCallum's pianist wife Stephanie used her husband's transcription to make the first recording of the piece—Bagatelle in F minor—which is just 54 seconds.
First recording by Australian pianist Stephanie McCallum is available online here.

Free sheet music to download and print:
Beethoven, Bagatelle in F minor – transcribed by Piano Street
A challenge…
Unlike Mozart who worked out his compositions in his mind and then wrote them straight off, Beethoven kept private notes all his working life in which each composition grew from initial idea through constant revision, bar by bar, until he achieved a final version.
One of Beethoven's other sketchbooks, "Landsberg 5″ from 1809, including over 100 pages of sketches will soon be available as a downloadable pdf from Piano Street.
It includes sketches for one of his Piano Concertos, the Piano Sonata Op 81 and much more. Deciphering Beethoven's rather sloppy handwriting is definitely not an easy task and by studying these sketches you will get an idea of the expertise needed for making discoveries such as McCollum's but one first step is to take the challenge and figure out…
Which Piano Concerto theme is hiding on page 14 of the Landsberg 5 sketchbook?

Full page: Beethoven – Sketchbook "Landsberg 5″ (1809), page 14
(Beethoven's five Piano Concertos – sheet music)
Send your answer (specify movement) to webmaster@pianostreet.com before Sunday 30 November and, if correct, you will get a free copy of the Landsberg 5 sketchbook (pdf-file) when it becomes available at Piano Street.
Special prize draw: Three people submitting the correct answer will each get one year of Piano Street Gold membership (value 36 USD).
Uptate 8 December:
The correct answer is Piano Concerto no 5, 3rd mvt and the lucky winners of Gold memberships are:
Jose Valladares
Stephan Ascher
Sakari Väkevä
Congratulations!
/nilsjohan