Classical Piano Sheet Music to Download and Print

or to View in Your
Mobile Device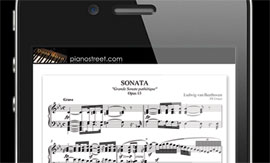 ---
Sign-up now
For instant access to the printable sheet music of
WTC 2 by Bach
and thousands of other classical piano pieces,
sign up
for a Piano Street Gold Membership!
Johann Sebastian Bach: WTC 2
Bach wrote the second set of 24 preludes and fugues some sixteen years after the first one.
By this time the fugue was more or less out of fashion, and Bach had begun to attract some criticism for his unnaturally intricate style of composition.
Itís not unlikely that he wrote this second set partly with the aim of silencing his critics, once again demonstrating how the fugue could be made to absorb all sorts of styles and expressions.
Sheet Music Downloads:
Posts in the piano forum about WTC 2 by Bach:

Well-Tempered Clavier

April 05, 2009, 03:15:31 AM by gnomus


hi, i'm looking for some Well-Tempered Clavier analysis for a search at school. I need some web link or anything else, in english or in frech.

Tank to everyone

Sorry for the mystake, I'm a french guy




Good first Bach WTC?

March 21, 2009, 12:29:32 AM by kelly_kelly


I've never played a Bach Prelude and Fugue set, though I've always wanted to. Since I don't really have much repertoire at the moment, I thought this might be a good time to begin one. To give an idea of what I can play, I'm currently working on the first two Barber Excursions and Ravel's Valses Nobles et Sentimentales. In the recent past I have played Beethoven Op. 14 no. 2 and the first movement of Schubert D. 537. I'm ashamed to say I haven't played much Bach except the prelude to the second English Suite in A minor.

My favorites from the WTC include:

WTC I: C# major, Eb major, D# minor, E major, G major, A minor
WTC II: C# minor, F minor, F# minor, A minor, B minor (these are fewer because I'm - unfortunately - not as familiar with WTC II)

Bolded are my two overall favorites. But though these are my top choices, I'm willing to settle for other pieces if the ones listed here are out of my league. Any suggestions/recommendations would be greatly appreciated


Recommended artists albums for WTC and Beethovens complete sonatas?

April 05, 2008, 03:29:59 AM by littl3sh33p


Hello!
Does anyone know which album of complete Well tempered Clavier and Beethoven complete sonatas I can buy? Who are the good interpreters of such works?
So far I have Daniel Barenboim's WTC book 1, fredrich Gulda's WTC book 2, and Claudio Arrau's Beethovens. What more?



Favorite Bach P+F

November 21, 2007, 12:51:18 AM by alpacinator1


Which is your favorite bach prelude and Fugue? My favorite is XXI from the Well-Tempered Clavier book 1. I like it because the prelude is kind of crazy, and the fugue doesn't sound as wierd and atonal as most fugues do.