The annual international music festival celebrating the legacy of Ignacy Jan Paderewski (1860-1941) opened in Warsaw in late October and is now running for almost a month. This year the event also marks the centennial of national independence, which Poland regained after World War I. Piano Street's Patrick Jovell visited the festival in Warsaw and the Paderewski Birthday Celebration Concert at the Philharmonie there.
Paderewski was one of the biggest music superstars of his time, drawing the largest crowds in history at a time when the solo piano recital was still in its infancy. Serving as Polish prime minister and minister of foreign affairs in the years 1918-19, Paderewski represented Poland at the Paris Peace Conference in 1919 and signed the Versailles treaty on behalf of the newborn republic.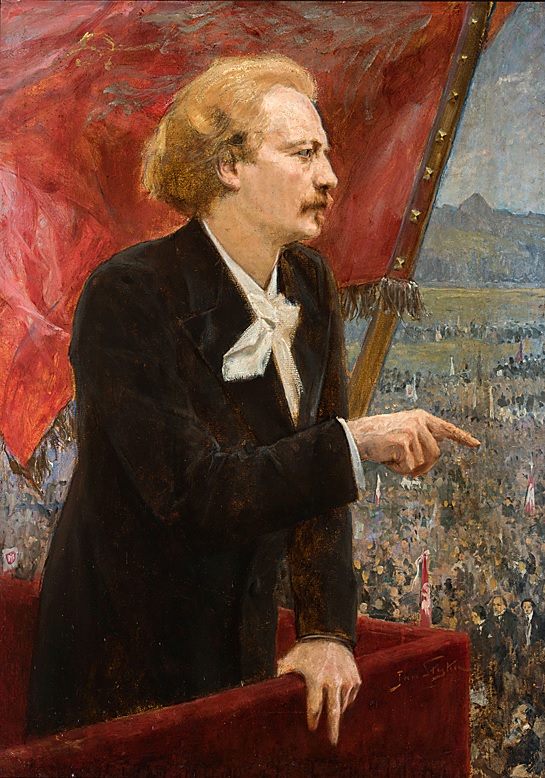 Paderewski, the Pianist and Composer
Paderewski was said to be the highest paid pianist in his times and his career spanned the world from Africa to Australia and across the European continent; crossing the Atlantic more than thirty times. He gave over 1500 concerts in the U.S., appearing in every state. He was the first to give a solo recital in the newly built Carnegie Hall which held almost 3 000 people, and in 1932 he faced an audience of 16 000 in Madison Square Garden, the largest crowd in the history of music at that time. While his opera Manru was being performed at the Metropolitan, Paderewski himself was playing a recital in Carnegie Hall; both places were filled to overflowing.
Paderewski's complete piano solo works contains some 8,5 hours of listening. In addition to this there is a Piano Concerto in A minor Op. 17 plus a Polish Fantasy for piano and Orchestra Op. 19, which both enjoyed popularity during his lifetime. Even though some of his piano scores sold in several million copies, Paderewski's creative heritage is less extensive than his legacy as a touring virtuoso pianist. His famous Minuet in G – first of the six Concert Humoresques Op. 14 – counts among the most renowned, along with the "Polonia" Symphony, the "Manru" Opera, and the Piano Concerto. The Minuet sold millions of copies, was recorded by acclaimed pianists (Rachmaninov and Paderewski himself) and was transcribed for several instruments including for violin by Fritz Kreisler and for cello by Gaspar Cassado. As a carrier of Polish traditions Paderewski used forms such as Krakowiak, Polonez and Mazurek, often in smaller size works mirroring Polish folk songs and dance material. He is also widely known for his Chopin Edition where he formed an editorial board together with L. Bronarski and J. Turczynski. Based primarily on Chopin's autograph manuscripts, copies approved by him, and first editions, it has remained a popular and widespread reference edition.
The Festival and Exhibitions
Held in venues around the Polish capital, including the National Philharmonic, the Royal Lazienki Park, the Royal Castle, and the Fryderyk Chopin University of Music, the 5th edition of the International Ignacy Jan Paderewski Festival will run until November 28, featuring symphonic and chamber concerts with national and international musicians. It also offers attractions such as film screenings and music workshops for children. The non-governmental, non-profit organization "Ave Arte", whose aim is to provide support for the development of culture and art has joined state institutions such as the National Philharmonic, the Chopin Institute and the Polish Radio in shedding light on the legacy of the important deeds of the Polish pianist and composer.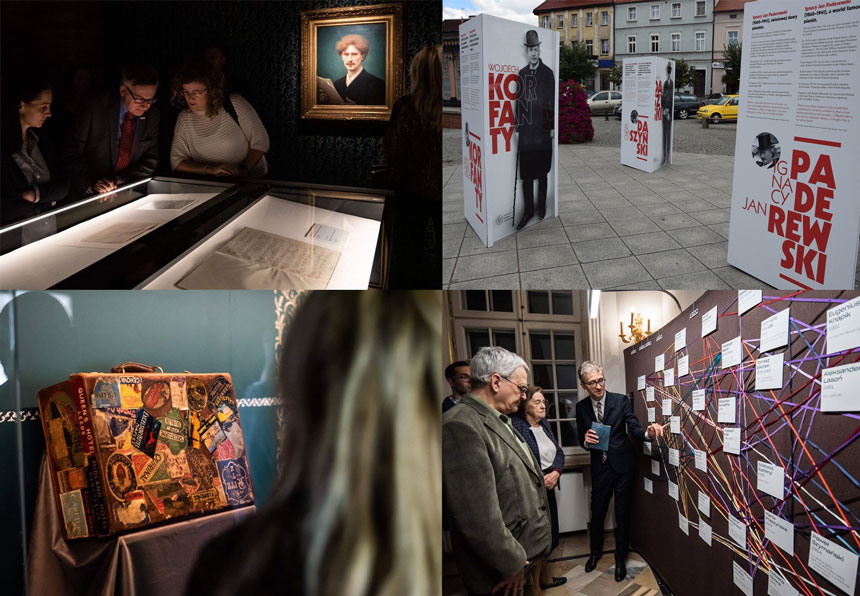 Also, the Chopin Institute has opened two exhibitions concerning different aspects of Polish music: "Paderewski to Chopin" and "Constellations: Polish Music 1918–2018" – at the Fryderyk Chopin Museum in Warsaw. The "Paderewski to Chopin" exhibition presents selected topics from the life of Paderewski, as well as his great service in the popularization of Chopin's legacy. Among the 40 mementos presented at the exhibition are such items as Paderewski's suitcase, his calling card, valuable musical autographs and a collection of portraits of the pianist. The second exhibition; "Constellations: Polish Music 1918‒2018", is a commentary devoted to the attitudes of Polish composers from the past century toward history, tradition and modernity, displaying nearly 70 works. The multimedia exhibition in installation form will be presented from 9 November 2018 to 3 March 2019. The event will be accompanied by "Constellations: An Introductory Lecture", which took place on 13 November, as well as by a upcoming panel discussion on 11 December. Together, its participants will attempt to answer the question "What is Polish music today?"
---
The Ignacy Jan Paderewski's Birthday Concert in Warsaw
Piano Street's Patrick Jovell meets with pianist Peter Jablonski at the Philharmonie in Warsaw.
Paderewski's birthday concert at the Warsaw Philharmonic Concert Hall is certainly a very festive moment for many and particularly this year on the occasion of Poland's 100 years of Independence. Peter Jablonski was the soloist in Paderewski's Polish Fantasy for piano and orchestra Op. 19, with Warsaw Philharmonic under Marzena Diakun. This was a new, thrilling and positively surprising experience, hi-lighting a work very seldomly played.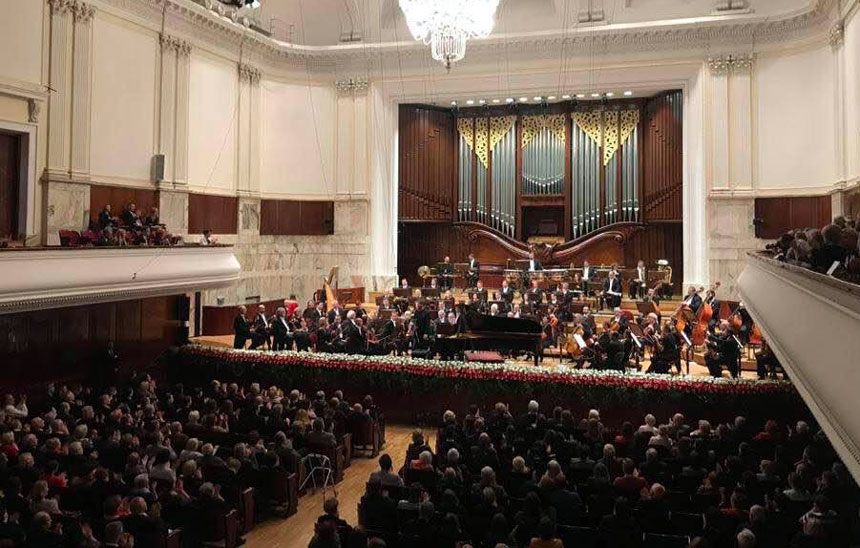 – Peter, your background is Polish/Swedish and you have spent a lot of time on stage and in recording Polish music. How would you describe the Fantasy for piano and orchestra which you just performed here?
– The first thing that struck me about this Fantasy is how little we know of Paderewski as a composer. Of course he was a famous virtuoso, and even famous as a Prime Minister of Poland in 1918-19. But he was an excellent composer too, he knew how to write for the pianist's hand very well, and while this work is technically demanding and virtuosic, it is not awkward pianistically. This work is inspired by a Polish folk tune, and it has everything: charm, brilliance, drama, and lots of beautiful music. This is a rather unknown work, it is performed much less often than the Concerto, and because of this, it remains underestimated. This is a work that has much spirit and invention, which are packed into a much smaller form than the concerto. The Fantasy is able to create much impact on the audience, and is a joy to perform for the soloist and the orchestra.
– I know that the Mazur is one of your favourite forms. How does Paderewski treat the Mazurka, Krakowiak and the Polonaise and which folkloristic elements can be found in this seldom heard work?
– All these elements are in the Fantasy. The clue is in its title: it is a Polish Fantasy that is imbued with Polish folk elements. Right from the start, in the grand opening of the orchestra, the theme is stated in a Polonaise manner. When the piano has the same theme, it is in the form of a gentle mazurka. Paderewski composed at a time when nationalistic tendencies were very strong, and especially in Poland, the country that was so torn for so long, that its people could only hold on to their roots via music, theatre, and literature.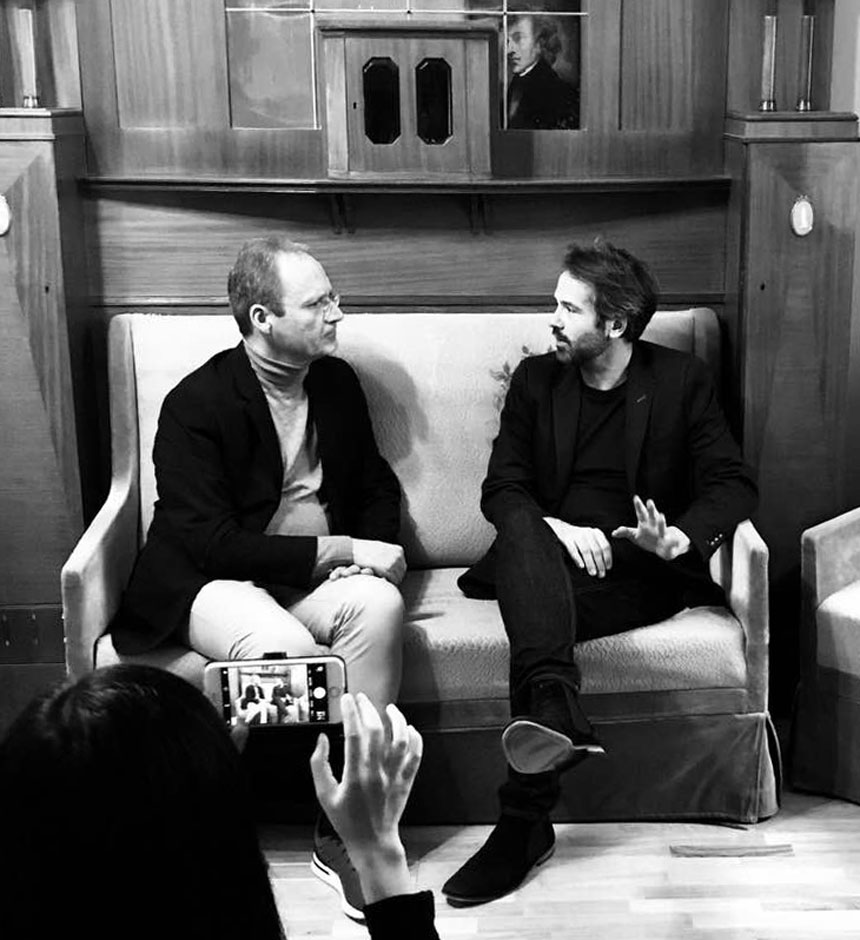 – Paderewski's superstar stature certainly proved that he was a great showman and a drawing card that eventually made him his own rival, as contemporary newspapers wrote. As a composer, how can we see the clash or maybe paradox between Paderewski as the international superstar and the Polish tradition bearer?
– Well, I think that for all his showmanship, Paderewski remained true to himself as an artist, and he remained true to his art. Whatever was for show or on show, always had an artistic purpose, and felt genuine. In his own music, he paid homage to Poland, to Polish music, and tried to, in his own way, to show its integrity, beautify, and independence. As a composer, Paderewski does not seem to be concerned with making new discoveries or innovations for their own sake. Instead, he is crystallising what is best in his national school and European musical heritage, and combines it with his own knowledge of the instrument, as a respected and famed virtuoso.
– Cortot wrote that hearing Paderewski in Paris as a teen, was a revelation. Flashing lightnings, ecstasy, eruption, magnetic personality and a glowing tone. A realisation of "the coming of a pianist for our time". How would you describe Paderewski's playing stylistically in comparison to other contemporary giants such as Hofmann, Godowsky, Rachmaninoff or Lhevinne?
– What an interesting question! Actually, Paderewski's reputation as a performer has suffered a lot from a misconception that he had poor coordination between hands, that he lacked sensitivity, or that he was frivolous with his interpretations. But if we remember that Paderewski studied with his very first teacher, who himself formed as a musician in the early 19th century, then we begin to understand the tradition that he inherited. Instead of thinking of poor coordination, we should think of independence of hands. Even in the days of Chopin that tradition was still alive, and in the later age of technical brilliance and perfection, which actually gives a rather mechanical, almost robotic performance that can lack heart and soul, the way Paderewski plays can seem to be messy or technically imperfect.
His style, as compared to the performers you mention is undoubtedly more free and more grand, and probably more in the style of Anton Rubinstein and Liszt. It has a grand sweep, grand gesture, and drama in performance rather than a finely combed technique. Hofmann was famous for being one of the first piano virtuosos who paid so much attention to minute details and who did not make mistakes. His playing did not suffer from this perfection, because what he inherited from his famous teacher was also firmly embedded in him – grandeur, gravitas, drama, power, and brilliance.
– Poland has very consciously continued to prove concern for its musical heritage and much effort is invested in contemporary music as well as preserving the past and its shining musical profiles. I know that you have collaborated with a number of renowned contemporary composers and Chopin is constantly appearing on your concert programs. What can you recommend us to explore when it comes to new and old Polish piano music?
Paderewski is a great start, and certainly is a composer worth discovering. He was a recent discovery for me, which is surprising, given that I have played so much Polish music, and played in Poland from the beginning of my career. I will certainly champion his work in my future concerts.
Chopin, of course, is a master of so many forms, not least of my favourite mazurka. He will always remain in my repertoire as a composer whose Polish heart belonged to the whole world.
Speaking of mazurka, Roman Maciejewski is someone who wrote beautiful mazurkas and other piano music, and whose works I really enjoy playing. And, of course, Szymanowski, whose music need to be heard more, who wrote wonderfully for piano. I had the pleasure to personally work with Lutosławski on his piano concerto, and of course, have great respect for this composer. I like performing his concerto, which is technically demanding but musically rich, and rewarding for both audiences and performers. His Paganini Variations are in my list of top favourites; it is a work that should be heard much more often. It really puts the pianist through his or her paces, and is a great fun to play, despite all the technical challenges. I do have to mention Wojciech Kilar, who wrote a piano concerto for me in 1997, which I was able to perform at the Warsaw Autumn Festival, and which received a prestigious Orpheus award. It is a reflective, I should almost say meditative work, and it is deceptive in its serenity and simplicity – the last movement is tremendously challenging to play. It is not often performed, but it should have its own place in the musical heritage of the 20th century.
---
Recommended listening:
Hear Paderewski's Humoresques de concert "À l'Antique", as well as pieces by Szymanowski, Górecki, Bacewicz, Mykietyn and Panufnik on the album "A Century of Polish Piano Miniatures".
NEW! Click the album cover to listen to the complete album.
This feature is only available for Gold members of pianostreet.com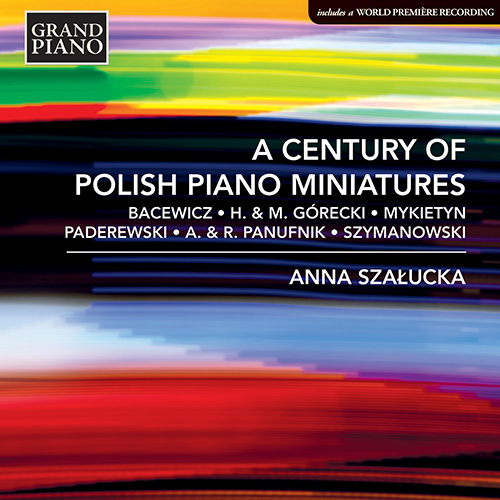 |
Play album >>
|
Download CD cover >>
|
/patrick