Exciting Time Travels – Exclusive Interview with Ronald Brautigam

Ronald Brautigam talks to Piano Street's Patrick Jovell about his love and interest in period instruments as well as the modern grand piano.

Patrick: We know you as one of the most important contemporary fortepiano exponents of Mozart, Haydn and Beethoven, which has resulted in your recording these composers' complete sonatas on the BIS label. I have also experienced your outstanding chamber music collaborations, for example with violininst Isabelle van Keulen and your numerous prizewinning recordings of concerti on a modern grand piano. Your complete Beethoven piano concertos project has also achieved completion, and the recording of the E-flat major concerto no. 5 and Choral Fantasy has been available in record stores since July. One might say that you are a pianist with one foot in the past and one foot in the present. How did your love for and interest in period instruments emerge?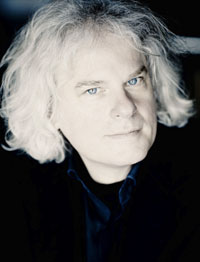 Ronald: The music of Haydn, Mozart and Beethoven has always held a special place in my repertoire, long before I became interested in the fortepiano. It was during the 1980s that playing Mozart's piano sonatas became something of a problem: I had a clear idea of how the music should sound, but somehow the end result never matched my preconceived interpretation. The music sounded too big for what it was, and trying to make it lighter only resulted in the sort of polished and overly elegant Mozart I absolutely can't stand. It was not until in 1987 that I came across fortepiano builder Paul McNulty (www.fortepiano.eu), who had his workshop in Amsterdam at the time. He invited me to come and have a look at his newly-finished 5-octave Walter copy. As soon as I started playing some Mozart, it all fell into place: the lightness I had been looking for was there, along with a sense of drama, of cheekiness and excitement I had never dreamed to find in these sonatas. All in all it only took me half an hour of playing to order an instrument from Paul; a decision that definitely changed my life. I had originally planned to keep my fortepiano at home, to use it as a reference when preparing a concert on modern piano. But in the end I found myself behind the fortepiano most of the time, and decided to start using it for concerts. The beginning of a long and happy relationship!




Patrick: All pianists, to different extents, have personal experience of Mozart, Haydn and Beethoven sonatas throughout their lives, including discussions and reflections about how to read the score. As a top level pianist, you have played these sonatas since childhood. How do you approach the text when you prepare a work on the fortepiano as compared with how you prepared it previously? Are there basic rules or inevitable facts that have to be considered in a fortepiano situation?




Ronald: There is not really a lot of difference in my text approach on fortepiano or on modern piano. The text is the most important information the composer left us, and tells us everything we should do, whether on a Walter or a Steinway. Playing on a fortepiano, the instrument the composer had in mind, we can simply interpret the score as it is written. It is when playing a modern piano that we have to rethink some elements of the score, make a translation, as it were. Playing Beethoven on a fortepiano takes the instrument to its dynamic limits, which is not advisable to try on a Steinway!




Patrick: So how does the actual translation/transition work in practice?

 

Ronald: We have to convert the original dynamics into something that works equally well on a modern instrument, and the same goes for the accents, sforzati, etc. This practically means that you have to be more careful on a modern piano, without losing the excitement and dynamic drama of playing a period instrument. I tend to use far more leggiero and staccato playing on a modern piano, to suggest some of the crispness of a fortepiano, and I try to avoid the big, romantic sound as much as possible. But in the end the intrinsic qualities of whichever instrument you use should never be thrown overboard. Play a Steinway as a Steinway, play a Walter as a Walter.



Patrick: Your intentions as an interpreter clearly have to be treated differently in various situations. Can you elaborate on this?

 

Ronald: Well, I have also found that each instrument has its own sense of 'tempo giusto'. An adagio will somehow be played slower on a Steinway than on a Walter, simply because of what the ear picks up. A performer constantly assesses the sound coming out of the piano, is forever making small adjustments to tempo and dynamics according to what he hears. When a note dies out on a fortepiano, the following note in the melody will come sooner, to keep the melody flowing. On a Steinway, where the length of the melody note seems endless, the timing of the following note will naturally be different, resulting in a slightly slower tempo. The much lighter action of a fortepiano makes for crisp, fast tempi that could never work on a modern piano.
The third, and final element where there is a difference in approach is articulation. Owing to its quick damper action and shorter tone, a fortepiano has a speaking quality, whereas a modern piano is by nature a singing instrument. Articulation on a fortepiano is an organic part of its speech, on a Steinway it can sometimes feel a bit 'amputated': just as the tone is getting ready to give it a go, it is cut off. This asks for a slightly more conservative handling of the articulation on a modern piano; as I said before, never do anything against the character of an instrument. Again, you have to make a translation of the original articulation into something that suits a modern piano.

Patrick: Thank you for taking the time talking to us and good luck with your projects and concerts!



Ronald: You're welcome, the pleasure was all mine!
---
Ronald Brautigam, fortepiano, and Die Kölner Akademie under Michael Alexander Willens recording Mozart Piano Concertos in Cologne, November 2009:
---



Video from BBC, Ronald Brautigam plays W.A. Mozart´s Piano Concerto no. 20 in D minor, mvt 3 performed on a pianoforte:




More Ronald Brautigam on fortepiano:

Mozart – Complete Keyboard Sonatas & Variations

Haydn – Complete Music for Solo Keyboard
Beethoven: Complete Works for Solo Piano, vol. 8