Can you figure out these Piano Puzzles?
Every Wednesday, composer and pianist Bruce Adolphe joins APM:s radio program Performance Today for a classical music game called Piano Puzzler. Bruce takes a familiar tune – a popular song, a children's tune, a Broadway hit or something from the classical repertoire – and rewrites it in the style of a classical composer, often using direct quotes from famous classical masterworks. After the performance, Bruce and host Fred Child talk to a listener on the phone, whose task it is try to guess both the popular tune that Bruce has hidden and the composer whose style he has imitated.
The Piano Puzzler Turns 10
The first "Piano Puzzler" was broadcast exactly 10 years ago, on April 24 2002, but the idea was hatched one week before that, on April 17: Bruce Adolphe had come into the radio studio for an entirely different interview, but ended up improvising a "Keyboard Conundrum" based on some sheet music he happened to carry in his shoulder bag at the time.
During those 10 years, Bruce Adolphe has composed no less than 400 Piano Puzzlers, or "about13 hours' worth of insightful, delightfully clever, cunningly educational, and sometimes laugh-out-loud funny musical wizardry", as Fred Child describes it. The Piano Puzzlers have also taken on a life outside the radio broadcasts, since Bruce is regularly invited to music festivals to do Puzzlers on stage.
Piano Street would like to join in the celebration of Piano Puzzler. Listening to Bruce Adolphe's witty compositions is an interesting and fun way of learning about the characteristics and distinct voices of the great composers of classical music. And because of the fact that the Puzzlers often focus on keyboard style and the core piano repertoire, all piano music fans should be able to find a lot to amuse and interest them in the program's archives.
In the audio player above you find some examples where you can test your knowledge of some of the great themes and tunes from the piano repertoire and below, links to archived Piano Puzzles.
Piano Puzzles birthday selection: 26 of their best puzzles
Archives 2007-2012
Older episodes of the Piano Puzzler
Piano Puzzlers – Sheet Music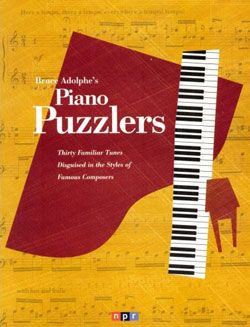 For years, people had been begging for the sheet music and in 2006 Wannacracker Music published a collection of piano puzzler scores. Play them in student recitals, in the classroom, at parties, as encores, or just to drive your neighbors crazy!
Piano Puzzlers: Thirty Familiar Tunes Disguised in the Styles of Famous Composers
This collection presents 30 of Bruce's "recompositions," printed exactly as he plays them on the radio.