FLAC — Better than MP3 For Classical Piano Music?
Back in 1984, the Compact Disc changed the recording industry forever. Before that, the best quality sound came from very expensive half-speed master copies of 33 1/3 long playing records. These specially designed pressings used better quality vinyl and had deeper grooves. The cutting lathe cut the disc at half-speed which resulted in extremely accurate pressings. The truly best half-speed master pressings were the equal to Compact Discs. In many instances, they were better. Their main drawback, however, was the much higher cost. Compact Discs were easier and cheaper to mass-produce. Over the last 28 years, they have been the preferred medium for audiophiles. In this second decade of the 21st Century, downloading music is beginning to take over the mantle of "preferred medium".
Today, classical music buffs who download music find MP3 files to be inferior to original, digital recordings in much the same way as later, cheaper vinyl pressings were inferior to half-speed master pressings. For the last few years or so, audio downloads were only available in compressed formats like MP3 or AAC. The compression removed small bits of the sound spectrum. Smaller speakers, such as those found in computers, cannot produce the removed sounds so there was usually no perceived loss. Despite this, classical music audiophiles refer to such files colloquially as "lossy files". Pop music files have a smaller sound spectrum than classical music files. Usually, the lost sound is undetectable in these files, even on larger speakers.
Piano music is especially tricky since professional performers strive for a distinct sound. Differences between players are just the sounds lost in the compression process. Such compression makes similar, yet undeniably different, recordings sound the same. Audiophiles, therefore, are seeking a better option in downloaded music files. Free Lossless Audio Codec, or FLAC, provides that better option.
FLAC Format – No Loss of Sound Across the Entire Spectrum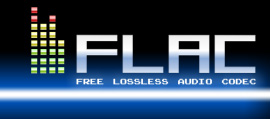 In the winter of 2003, the Xiph.org Foundation perfected FLAC, and audiophiles rejoiced. Compression no longer required loss of sound or quality. FLAC operates in much the same way as Zip technology. The compression, however, is superior because Xiph specifically designed FLAC for audio files. FLAC belongs to a group of these newer technologies called "lossless" compression. Some audio players of today support FLAC in the same way as MP3, but not as many as MP3. FLAC does, however, work on many more audio players than competing lossless formats like WavTech.
FLAC is available in two different formats: 16-bit and 24-bit. 24-bit sound is the same as recording studio quality and is better than a Compact Disc. 16-bit sound is the same as a Compact Disc and, of the two, is the only one writable to a blank Compact Disc. The only way to listen to 24-bit FLAC files is on a computer or from a blank DVD. DVD quality discs support the extra information included in 24-bit FLAC files.
Where does one acquire FLAC files?
The website eClassical.com, is currently the premier site for FLAC format files. Affiliated with BIS, eClassical.com leads the way in affordable FLAC pricing. Deutsche Grammophon has followed suit and also offers FLAC, albeit only 16-bit files. BIS and eClassical.com offer three different formats for purchase: 320Kbps MP3, 16-bit FLAC, and 24-bit FLAC. They are the first to offer all three in one location. Remember, too, that FLAC files are much larger than MP3s. One must plan accordingly and use proper discs, Compact Disc or DVD, for the selected format.
eClassical.com has also solved the fair pricing problem. Other download sites, such as iTunes, calculate pricing by song or album. eClassical.com, on the other hand, charges based on seconds of duration. The going rate is two-tenths of a cent per second for MP3 quality files and three-tenths of a cent per second for 24-bit quality files. This way, the customer pays only for what he or she wants to download. There are no restrictions such as "one must purchase the entire album for one track".
One the site itself, one can listen to complete albums rather than just a short clips. To thwart download pirates, each track has a fail-safe that stops it every 30 seconds. One must then restart. One can sample entire symphonies, concertos, or sonatas simply and effectively.
Neither Windows Media Player nor iTunes currently do this without the need to install additional "plugins", and even with these, they may only play 16-bit FLACs. FLAC is supported by many other media players, but it can be a daunting task for the new user to choose a suitable program. Get started with this guide from afterdawn.com
Free FLAC track from eClassical exclusively for Piano Street readers – Yevgeni Sudbin plays Chopin F minor Fantasy:
http://www.eclassical.com/pages/pianostreet-free-download.html
---
Piano Street talks FLAC with George Olvik, CEO at eClassical
Piano Street: As a piano music enthusiast, why should I choose the FLAC-format instead of a MP3?
George Olvik: FLAC is full CD quality, MP3 isn't. When choosing FLAC, you get the same that you could buy in a record store, the exact data that's on the CD release. In MP3 files, some sound data has been left out to create a smaller file. If you can play FLAC files and have the extra space (about twice as much as MP3 320 kbit for 16-bit FLAC), choose FLAC, of course! I maybe should mention that at eClassical, you always get both MP3 and FLAC 16-bit if you buy any album. You can download whichever you want, or even both. Or download MP3 first, get a FLAC player at some time and later download the respective FLAC files.
PS: Today choosing music doesn´t necessarily mean that you buy music to own it physically and young people tend to consume music at a faster pace. Is the FLAC-format convenient in this quick consuming sense?
GO: As hardware gets cheaper and faster and broadband is everywhere I can for sure see that FLAC can be the format also for this customer group. A lot of these people invest a lot in their headphones and I think and hope that they will ask for higher quality in their music files.
PS: For pianists the piano sound is a very personal question which the un-compressed format always can guarantee. What do we miss out on in pure piano sound authenticity when listening to MP3?
GO: Typical MP3 artifacts are a noisier sound, unclear transients and some missing frequencies. These become of course more obvious the higher the MP3 compression, i.e. the lower the bitrate. Our MP3s are all at 320 kbps, the highest MP3 quality that is universally playable, so they will already sound pretty good. Piano music as MP3 files can have unclear attacks, the piano could sound less brilliant and some typical sonic features of the respective instrument might get lost. MP3 encoders typically leave out the highest frequencies, but even the lowest notes might sound thinner with MP3.
Generally, classical recordings often are have an unusual high dynamic range, but also more static passages, compared to other recordings. You can e.g. have just one piano note sounding for several seconds. Whilst uncompressed formats (or lossless compressed, as FLAC) just digitize the soundwaves that reach the microphone, MP3 saves the sound split up both "vertically" into frequency bands and "horizontally" in short segments of some milliseconds. An MP3 decoder must recreate the signal from these soundbits, and sound quality can change for each of them, depending on which frequencies are present at what level. I cannot imagine that this process will perfectly recreate what has once been an acoustic vibration – even if only very little compression has been applied. And the high dynamics in classical music can make pre-echoes occur more often.
PS: What will the future bear for FLAC distribution from a technical point of view?
GO: I think that streaming lossless audio, like FLAC, could be the thing. But it will need more bandwidth, of course. In home networks, it is possible to stream FLAC audio, and many music fans do it. But if the streams are going out over the internet, plenty of people still are on connections slower than 1 Mbps, and they will hardly be able to stream FLAC in real time. On the other side, it might also mean quite an investment for streaming services if they need double bandwidth for every customer that wants to stream lossless audio. But as said, with quicker connections everywhere, lossless streaming will for sure be possible one day.
PS: Finally, a personal question – as CEO for eClassical, do you ever listen to music through Spotify, Naxos Music Library or iTunes?
GO: Yes I do :)
I have an account on Spotify and I purchase music on iTunes every now and then. But I don't use Naxos Music Library. My father tells me I should but I have enough of classical music to listen to on my harddrives…
---
Try out some FLAC recordings!
Deutsche Gramophon and Decca offers FLAC as download option.
Five recent releases from Deutsche Gramophon available in FLAC format:
Yundi – Beethoven – Piano Sonatas
Yuja Wang – Fantasia
Maria Joao Pires – Mozart – Piano Concertos 20 & 27
Ingolf Wunder – Chopin – Recital
Pierre-Laurent Aimard – Debussy – Préludes – Book I + II
Krystian Zimerman – Brahms – Piano Concerto No. 1
Recommended FLAC format albums from Decca Classics:
Nelson Freire – Brasileiro – Villa-Lobos & Friends
Valentina Lisitsa – Rachmaninov – Piano Concerto No. 3