Naxos Music Library – Online Music Streaming
NAXOS Music Library (NML) is a very useful resource for music professionals, students, amateurs and collectors.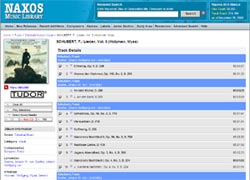 The service offers more than 26,000 CDs with over 371,000 tracks of music for online listening.
In addition to this 500 CDs are added every month. It also contains comprehensive liner notes, opera synopses, libretti, composer and artist biographies and other essential information.
The recordings in Naxos Music Library include the complete catalogues of BIS, Chandos, CPO, Hänssler, Hungaroton, Marco Polo, Naxos and selected titles of other leading independent labels, with more labels being added from time to time.