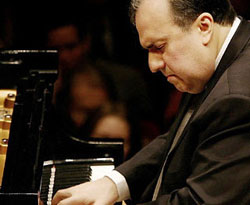 Experience Berliner Philharmoniker's season opening concert live via the Internet. On August 24, 2012 at 19:00 (CEST), principle conductor Sir Simon Rattle and pianist Yefim Bronfman will open the 2012/2013 concert season.
Register for the concert here and receive your free, no obligations, personal access code to this special musical experience.
Breathing fresh life into old art – that's one of a symphony orchestra's biggest challenges. Thus it's only fitting for the Berliner Philharmoniker and principal conductor Sir Simon Rattle to open the 2012/13 season with two works that present exactly this artistic challenge in the way their composers have rethought and reshaped traditional forms.
First there is Johannes Brahms's Second Piano Concerto – completed in 1881. As a symphony cum solo concerto it was already considered by many at the time to be outmoded. In fact, the work is full of surprises. At times it acts like a symphony in which the piano merely adds its special colour to the mix; then the pianist is again allowed to display his full range of soloistic abilities. Finally, there are moments of exquisite chamber-musical exchange. Nothing in the work is schematic. Pianist Yefim Bronfman is ideal in this work, "a virtuoso, with chops that need fear no comparisons" (New York Times), yet also one who loves being part of collective music-making and once even confessed that he felt especially comfortable in the role of "second violin".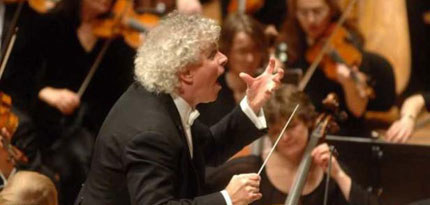 The orchestra and its conductor will inaugurate a whole series of works by Witold Lutoławski with the composer's Third Symphony of 1983. Sir Simon Rattle has referred to the symphony as "Lutosławski's masterpiece", and his idiom's distinctive qualities are exhibited in the tightest space: unconditional modernity – for example in aleatoric passages in which the orchestral musicians are required to improvise – but also atmospheric concentration and vital force. The Berliner Philharmoniker last performed the work in 1985, conducted, incidentally, by Lutosławski himself.
/patrick