Gabriela Montero – Uniting the Worlds of Composition and Improvisation
Pianists post-Liszt, however, blended improvisation with playing from memory so that "Performing a composition by heart fostered the impression that interpretation could have the freedom and spontaneity of an improvisation, but linked to music of greater complexity and–implicity–quality" (from After the Golden Age: Romantic Pianism and Modern Performance by Kenneth Hamilton, 2008).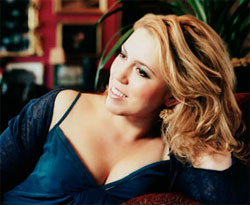 While there's some element of improvisation (interpretation is probably a better word to describe it) in all performances of classical piano music, pianist Gabriela Montero takes this to a different level by taking requests from the audience and improvising her show. Gabriela Montero's extraordinary ability as an improviser, rare in the classical world, is fast becoming her trademark. From her first contact with a piano, Gabriela Montero has always improvised and she decided to make it public at the behest of Martha Argerich who told her not to be afraid whether people would find it improper or not.
Following her critically acclaimed Rachmaninov, Chopin, de Falla, Scriabin, Liszt recital disc and her Bach and Beyond improvisational album for EMI Classics, Montero recorded a CD of Baroque improvisations at London's Abbey Road Studios in June 2007. Gabriela takes some of the best known Baroque themes, including Pachelbel's Canon in D Major, Albinoni's Adagio, Vivaldi's Four Seasons, Boccherini's Minuet and Handel's Water Music, and brings to her classy improvisations the same passion, poetic musicality and sense of structure that she brings to classical works. And as The New York Times reported following one of Gabriela's improvisational evenings, "no matter how complex the variations, the original melody always emerges triumphantly from a musical tapestry that might weave blues, jazz, tango and Debussy into a multihued framework."
Gabriela Montero was born in Caracas, Venezuela and performed in public for the first time at the age of five. Three years later, she made her concerto debut with the Venezuelan Youth Orchestra. She was subsequently awarded a scholarship from the Venezuelan government to study in the United States. Despite winning a number of competitions, including the Bronze Medal at the 13th International Chopin Piano Competition, Gabriela kept her improvisational skills under wraps until Martha Argerich heard her and was "ecstatic," giving her a ringing endorsement: "I have rarely come across a talent like Gabriela's. She is a unique artist" as well as personal encouragement. Montero says, "Martha persuaded me that it was possible to combine my career as a serious 'classical' artist with the side of me that is rather unique."
Gabriela performs live improvisation sessions via her website twice monthly – for further details visit http://www.gabrielamontero.com.
A live performance from the Kölner Philharmonie, Cologne in August 2007 is presented here:
http://www.gabrielamontero.com/gabriela_live.php
A rich variety of performance clips are available at YouTube