The Women Behind Chopin's Music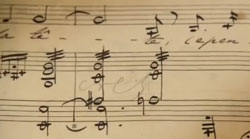 Chopin revolutionised the nature of piano music composed both technically and emotionally but the actual musical instrument that provided his greatest source of inspiration was the female voice.
Other important parts of Chopin's inspiration came from the women in his life. For 10 years, George Sand exerted her powerful influence on him, and he also gleaned much from listening to such great singers as Jeanne-Anais Castellan, Pauline Viardot and even the Swedish Nightingale, Jenny Lind. Their exquisite tones and musicianship coalesced inside his mind's eye, and he applied what he had heard to his compositions.
A documentary about Chopin's unique piano style
In this documentary marking the 200th anniversary of Chopin's birth, pianist and trailblazer James Rhodes explores not only the Polish master's music but also his complex relationships with women.
Rhodes's film takes him from Paris to London and Warsaw as he delves, through exacting research, into the lives of the women who orbited Chopin's star. Along with piano guru Jeremy Siepmann, Chopin specialists Adam Zamoyski, Emanuel Ax and Garrick Ohlsson lend their expertise to the film, and they comment on Rhodes's playing and Chopin's history. Opera singer Natalya Romaniw performs some of the arias that inspired Chopin and explores his cantabile piano writings by singing the melody of Nocturne opus 9, no 1.