Classical Piano Sheet Music to Download and Print

or to View in Your
Mobile Device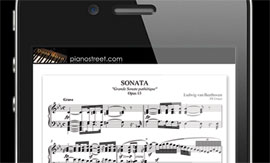 ---
Sign-up now
For instant access to the printable sheet music of
Preludes by Debussy
and thousands of other classical piano pieces,
sign up
for a Piano Street Gold Membership!
Claude Debussy: Preludes
Debussy's two books of preludes amount to a revolution in piano writing, and reflect better that any of his other works the span of Debussy's achievement.
The first book (1910) proved to be his most successful work: it includes some of the more popular preludes, such as La fille aux Cheveux de Lin (The Girl with the Flaxen Hair), and La Cathédrale Engloutie (The Sunken Cathedral), based on the legend of the sunken city of Ys, whose cathedral was allowed to rise to the surface once a day.
Both books include musical idioms from many different parts of the world (Spain, Scotland, Italy, the Orient etc.) and the evocative titles, placed as afterthoughts at the end of each piece, often allude to literary works by Shakespeare, Dickens, Baudelaire, Shelley and others.
Sheet Music Downloads: