Classical Piano Sheet Music to Download and Print

or to View in Your
Mobile Device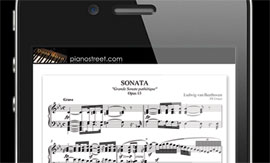 ---
Sign-up now
For instant access to the printable sheet music of
Sonatas by Haydn
and thousands of other classical piano pieces,
sign up
for a Piano Street Gold Membership!
Joseph Haydn: Sonatas
Haydn´s earliest surviving keyboard sonatas were most likely composed during the period before 1760, while he survived by teaching piano.
Probably a lot of similar works have been lost because Haydn gave the manuscripts to his students without making copies.
Most of these sonatas are short, relatively easy and in a three-movement format (fast-minuet-fast). From the mid-1760s the Sonatas are weightier and have much larger structures, with substantial slow movements.
With Hob. XVI:44 (1867) Haydn also ventures for the first time into the minor mode – this is the case with only five of his piano sonatas.
During the 1770s, Haydn composed at least 18 keyboard sonatas, published in sets of six. The one in C minor, Hob. XVI:20, stands out as one of the masterworks of Haydn´s Sturm und Drang period.
The three sonatas of 1784 are interesting formal experiments; each is in two movements and only one movement is in sonata form. The late sonatas were written in connection with Haydn's visits to London: Hob XVI:50 and 52 were written for Therese Jansen, a leading English pianist. They give evidence not only of Jansen´s formidable technique, but also of the more powerful sonority of the English piano in comparison to its continental counterparts.
Sheet Music Downloads: