Classical Piano Sheet Music to Download and Print

or to View in Your
Mobile Device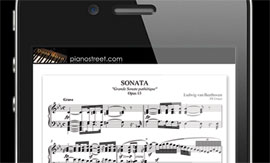 ---
Sign-up now
For instant access to the printable sheet music of
Sonatas by Haydn
and thousands of other classical piano pieces,
sign up
for a Piano Street Gold Membership!
Joseph Haydn: Sonatas
Haydn´s earliest surviving keyboard sonatas were most likely composed during the period before 1760, while he survived by teaching piano.
Probably a lot of similar works have been lost because Haydn gave the manuscripts to his students without making copies.
Most of these sonatas are short, relatively easy and in a three-movement format (fast-minuet-fast). From the mid-1760s the Sonatas are weightier and have much larger structures, with substantial slow movements.
With Hob. XVI:44 (1867) Haydn also ventures for the first time into the minor mode – this is the case with only five of his piano sonatas.
During the 1770s, Haydn composed at least 18 keyboard sonatas, published in sets of six. The one in C minor, Hob. XVI:20, stands out as one of the masterworks of Haydn´s Sturm und Drang period.
The three sonatas of 1784 are interesting formal experiments; each is in two movements and only one movement is in sonata form. The late sonatas were written in connection with Haydn's visits to London: Hob XVI:50 and 52 were written for Therese Jansen, a leading English pianist. They give evidence not only of Jansen´s formidable technique, but also of the more powerful sonority of the English piano in comparison to its continental counterparts.
Sheet Music Downloads:
Posts in the piano forum about Sonatas by Haydn:

Suggestions for Haydn sonata b-minor...

June 04, 2008, 11:04:03 AM by sborovic


Ok. So... I should decide between this sonata:

Joseph Haydn - Sonatas :
Sonata, Hob 16 no 19
Key: D Major Published: 1767
Level: 8 Period: Classical
pdf sheet music Sonata Hob 16 no 19 Breitkopf & Hartel edition
pdf sheet music Sonata Hob 16 no 19 Ruthardt edition

and this one:

ID:1908
Joseph Haydn - Sonatas :
Sonata, Hob 16 no 32
Key: B Minor Published: 1776
Level: 8 Period: Classical
pdf sheet music Sonata Hob 16 no 32 Breitkopf & Hartel edition


Which one do you prefer? Also, can someone give me a recording of these sonatas (i've found on youtoube just the second one!). Thank you in advance!



ornaments in Haydn

January 20, 2008, 12:46:03 PM by kevink


Does anyone know where I can find resources on the performance of ornaments in Haydn sonatas? I hear many different takes on how these should be played, and want to try to find out what is the closest to authenticity.

Thanks,
Kevin



Extroverted Haydn Sonata?

July 23, 2007, 01:39:09 AM by dnephi


I was thinking the c# minor sonata, but do you have recommendations? I'd like to do one which is demonstrative of classical control of form at its best but also some daring harmonic innovations and some sturm und drang.

Any Ideas? (Please provide HBK #s)