Classical Piano Sheet Music to Download and Print

or to View in Your
Mobile Device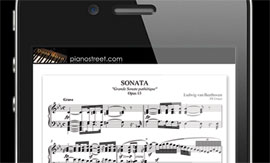 ---
Sign-up now
For instant access to the printable sheet music of
Hungarian Rhapsodies by Liszt
and thousands of other classical piano pieces,
sign up
for a Piano Street Gold Membership!
Franz Liszt: Hungarian Rhapsodies
The Hungarian Rhapsodies incorporate many of the tunes Liszt had heard played in the streets of his native Hungary. Their structure are influenced by the Hungarian Verbunkos, a dance in several parts, each with a different tempo.
Liszt also makes frequent use of the Hungarian gypsy scale, and preserves many elements of the typical gypsy band improvisation. The Orchestral Rhapsodies, arranged by Franz Doppler with revisions by Liszt and numbered 1-6, correspond to the piano solo versions numbered 14, 2, 6, 12, 5 and 9. In 1874, Liszt also arranged the same six Rhapsodies for piano duet; number 14 was also used as basis for Liszt´s Hungarian Fantasia for piano and orchestra.
Sheet Music Downloads:
Posts in the piano forum about Hungarian Rhapsodies by Liszt:

Hungarian rhapsodies

November 04, 2010, 12:57:48 PM by 54545


I'm currently trying to learn the second hungarian rhapsody and am wondering which edition is the best to use.

I have in my possesion the "new Liszt edition" (NLE) and the classic stiftung edition published by breitkopf and hartel and edited by peter Raabe.

It seems each of these editions have shortcomings: the NLE uses the last known edition published as its primary source, which may not always be reliable, since Liszt never approved some of variants or alterations while the stiftung edition uses to few sources.

what do you guys think



Chopin or LIszt?

October 23, 2010, 01:22:45 AM by m2r


who is better Chopin or Liszt i think Liszt, the Hungarian Rhapsody is imposible to beat!!



Difficulty of Liszt's Rhapsodies

July 29, 2010, 12:02:14 AM by the romantic


Hello all,

I've been reading Bernhard's wonderful posts about the grading of different pieces - especially Chopin's, whose works are covered several times. I was wondering if someone had a list of the 19 Hungarian Rhapsodies in order of their difficulty. I realise that difficulty is subjective, but even an approximate list would be useful.

Thanks a lot for any input!



Hungarian rhapsodies

August 11, 2007, 12:54:48 AM by soderlund


I haven't played any of the Hungarian rhapsodies yet, but I might start one very soon. I just looked through the sheet music on all of them, and the ones that seemed playable were no.3, no.5 no. 17, no.18. Does anyone have any suggestions which one to start with, if those four even are the most simple? Any suggestion on the next after these ones?

Thank you

Jonathan