Classical Piano Sheet Music to Download and Print

or to View in Your
Mobile Device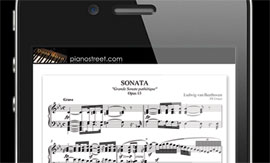 ---
Sign-up now
For instant access to the printable sheet music of
Hungarian Rhapsodies by Liszt
and thousands of other classical piano pieces,
sign up
for a Piano Street Gold Membership!
Franz Liszt: Hungarian Rhapsodies
The Hungarian Rhapsodies incorporate many of the tunes Liszt had heard played in the streets of his native Hungary. Their structure are influenced by the Hungarian Verbunkos, a dance in several parts, each with a different tempo.
Liszt also makes frequent use of the Hungarian gypsy scale, and preserves many elements of the typical gypsy band improvisation. The Orchestral Rhapsodies, arranged by Franz Doppler with revisions by Liszt and numbered 1-6, correspond to the piano solo versions numbered 14, 2, 6, 12, 5 and 9. In 1874, Liszt also arranged the same six Rhapsodies for piano duet; number 14 was also used as basis for Liszt´s Hungarian Fantasia for piano and orchestra.
Sheet Music Downloads: