Practice Piano Like a Pro
- and learn your pieces faster!
"Using the Piano Practice Guide is like always practicing with a teacher next to you;
demanding but incredibly effective!"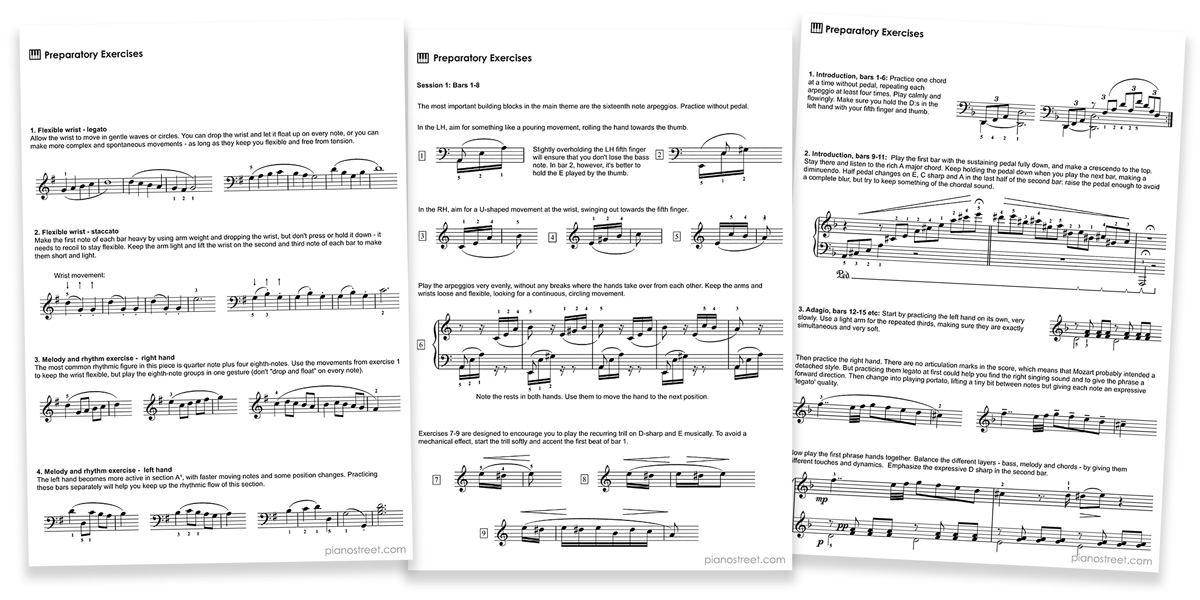 FREE TRIAL:


Not yet a member? Try one piece for free from the list of instructive editions below. Just send an e-mail with your selection to customerservice@pianostreet.com and we will e-mail you the complete package as a PDF-file.
Piano scores for all stages of learning
Thanks to the possibilities of digital technology, you are no longer limited to using just one specific edition of a piano composition when going through the various stages of learning. Piano Street's digital sheet music library contains both scanned authoritative and historical editions as well as modern editions engraved in-house by Piano Street's editors. Depending on your level of experience and where you are in the learning process of a particular piece, you may need fingering, pedal markings, practice and performance tips, or perhaps the opposite – a clean Urtext score.
Pieces available as Instructive Editions
Upgrade to Gold to activate the links to instantly download and print.
Bach: Minuet in G Major
Bach: Little Prelude in C Major
Burgmuller: Arabesque Opus 100, no. 2
Clarke: A Trumpet Minuet
Clementi: Sonatina in C, Opus 36 no. 1
Clementi: Arietta in C
Gurlitt: The Rocking Horse
Haydn: Minuet in G
Rameau: Minuet in C
Schumann: Melodie Opus 68, no. 1
Beethoven: Fur Elise
Chopin: Prelude op 28 no 4 in E Minor
Chopin: Waltz in A Minor, opus posth.
Schumann: Traumerei opus 15 no 7
Debussy: Clair de Lune
Mozart: Fantasy in D Minor, K. 397
Rachmaninoff: Prelude Op. 3 No. 2 in C-sharp Minor
Piano Street's Instructive Editions
The new concept "Instructive edition" was introduced as a complement to the existing types of scores published by Piano Street - PS Edition and PS Urtext. Piano Street is now offering Instructive Editions for several of the most popular piano pieces on all levels. The two parts included, Practice Guide and Practice Score, cover extensive and universally applicable information teachers would give during the lessons with the piece. Designed to be used both during lessons and while practicing at home, the Practice Guide will save time and effort by guiding and structuring your practice. Using the Practice Guide is like always practicing with a teacher next to you; demanding but incredibly effective!
PS Instructive Edition is designed to support in the beginning stages of the learning process. It will ensure that you approach a new piece in a structured, intelligent and efficient way. Here's an overview of what it contains:
Part 1: Practice Guide
Introduction: a brief presentation, with basic analysis and some historical background, in order to give you relevant clues to interpretation.
Preparatory questions: A few easy questions and exercises, encouraging you to look through the score and get to know it in a relaxed but observant manner, even before you start practicing at the piano.
"Mastering the piece": A list of the main musical and technical challenges of the piece, to give focus and clearly defined goals to your practicing.
Practice plan: An overview of what you will focus on in each practice session. A Practice Guide typically contains 5-6 sessions, to be completed one each day.
Preparatory exercises: Short exercises directly based on the actual piece, making you practice all its technical features in a logical sequence of very small steps – each taking you closer to your goal.
Part 2: Practice score
This is a complete score with printed advice and information. It includes detailed fingering with alternatives for small hands, pedal instructions, technical tips and advice on musical interpretation.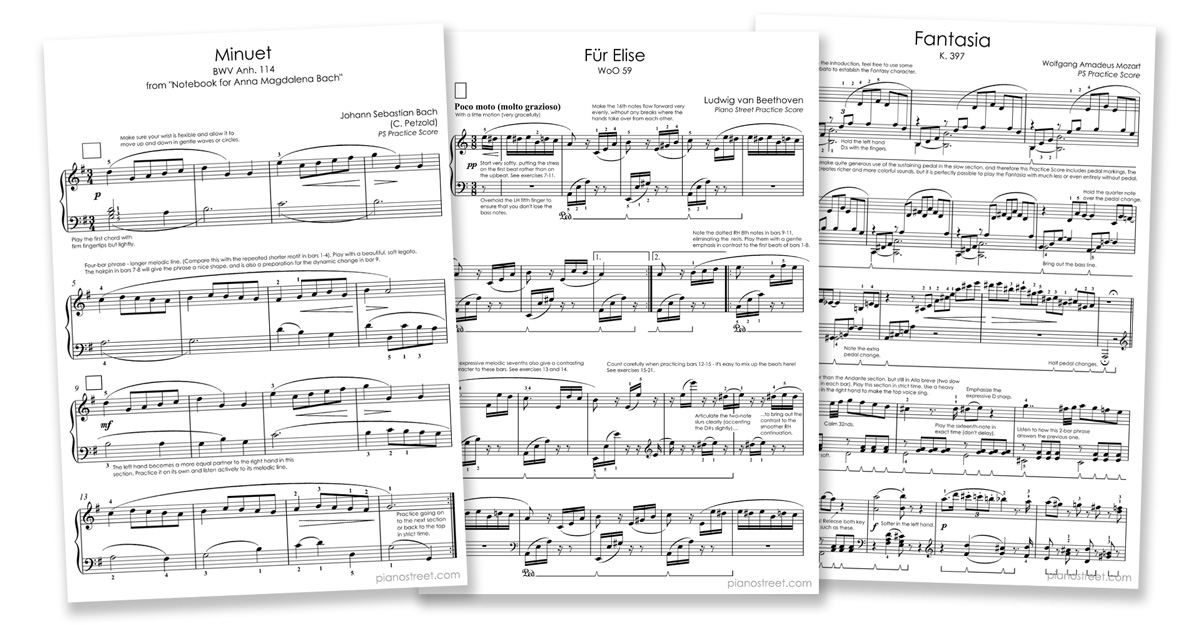 Instructive Editions for 17 pieces are now available for unlimited use for Gold members.
Sign up for a Gold Membership now for instant access!
Sign up for instant access >>