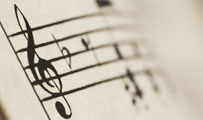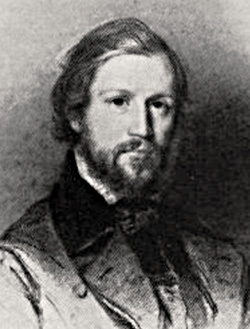 Alkan - Piano Music
Charles-Valentin Alkan
(1813–1888) was a French composer and pianist of great originality. In his youth he was good friends with
Chopin
(who was his neighbour in Paris),
Liszt
and the writers George Sand and Victor Hugo. Later in life he withdrew from social life and lived as a recluse, engaging in intense study of the Bible and the Talmud.
His works, written almost exclusively for keyboard, are often quite unconventional, of enormous length and technically extremely demanding. As a performer, Alkan was interested in a wide repertory of historical music from
Bach
onwards and performed works such as the late
Beethoven sonatas
and
Schubert's
piano music, not very fashionable at the time. He was proud of the strictness and precision of his own playing, and was a rigorous user of the metronome.
Alkan´s music was for a long time widely neglected, but in the last decades more and more pianists have begun to explore his music, not all of which is extravagantly difficult to play. The story that Alkan's death was caused by a bookcase falling on him as he reached out for a volume of the Talmud has turned out to be entirely untrue.
Notable compositions:
- Chemin de fer, Op 27 (first composition ever describing a railroad in musical terms)
- Grande sonate Les quatre âges, Op. 33 (depicting the Four Ages of Man)
- Two sets of etudes in all the major and minor keys, Op. 35 and 39. (The opus 39 collection contains the Symphony for Solo Piano and the Concerto for Solo Piano)
- Chamber music compositions include a violin sonata (0p. 21), a cello sonata (Op. 47), and a piano trio (Op. 30).
Piano Sheet music by Charles-Valentin Alkan to Download
| | | |
| --- | --- | --- |
| Download & Print | View in Mobile Device | For instant access to the printable sheet music of pices by Alkan and thousands of other classical piano pieces, sign up for a Piano Street Gold Membership! |
Total pieces by Alkan: 11
Posts in the piano forum about Alkan:

Alkan=Overrated Difficulty

November 30, 2006, 07:57:02 PM by jericho


Hi everyone AND happy birthday Alkan.

As anyone with sufficient knowledge of piano literature knows, Alkan wrote very demanding piano pieces. Indeed, they can be hellish but I think their difficulty is a bit overrated. Their technical demands can be equalled and surpassed by some pieces in the standard repertoire.

Is Allegreto alla Barbaresca more difficult than Scarbo? Is Scherzo Focoso more demanding than Islamey? How about any Alkan piece compared to Brahms' Paganini Variations?

Yes, Alkan pieces are terribly hard. But I don't think the great pianists avoid it because of their immense difficulty. There are a lot of virtuosi who are clearly capable of playing it but chose not to...Richter, Horowitz, Argerich, Cziffra, Hofmann, Lhevinne, Barere, Libetta, Kissin..
IMO, anyone who can manage Islamey, Gaspard de la Nuit, the Hammerklavier or even the Don Juan Fantasy and Feux Follets can also play Alkan if they choose to.