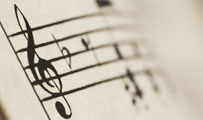 Beethoven - Piano Music
Ludwig van Beethoven
's (1770-1827) mother died when he was 16; because of his father´s alcoholism he became responsible for his two younger brothers.
To stop the family's money from being spent on drinking, Beethoven even went to his father's employer to demand half of the salary.
At age 22, Beethoven went from his native town Bonn to Vienna to study with
Haydn
. He established a reputation as a virtuoso improviser at the keyboard and managed to get support from the aristocracy in spite of his uncouth manners; the Archduke Rudolph later decreed that usual court etiquette did not apply to Beethoven.
Beethoven's first opus, three piano trios, appeared in 1795 and had immediate success. Not long after this Beethoven began to lose his hearing, which not only made it hard for him to perceive music and to perform, but also intensified his antisocial tendencies. He even contemplated suicide but eventually made a resolution to continue living for his art. He then spent the following decade writing some of the most admired works in all music history, many of them expressing struggle and heroism.
The first of these, his 3rd symphony
Eroica
, was originally dedicated to Napoleon – he erased the dedication when Napoleon proclaimed himself emperor.
Beethoven became the most respected composer of his time, but his personal difficulties continued, including a series of failed romances. The realisation that he would never marry probably contributed to a period of depression and low productivity from about 1812. That year he wrote a famous love letter to a certain "Immortal Beloved", the identity of whom remains unknown.
When his brother suddenly died, Beethoven became involved in a long struggle for the custody of his nephew Karl. However, towards the end of the 1810s Beethoven's creative imagination triumphed once again over his troubles. The works of his late period are written in a unique, highly personal musical language where variation form and contrapuntal writing features prominently and large-scale forms are handled with complete freedom.
In spite of his deafness, Beethoven managed to perform on a number of occasions; having conducted the premiere of the Ninth Symphony, he began to weep when he turned around and saw the tumultuous applause of the audience.
Beethoven died on 26 March 1827, in the midst of a fierce thunderstorm – legend has it that the dying man shook his fists in defiance of the heavens.
Major works:
Orchestral: Nine symphonies, five piano concertos, violin concerto, triple concerto for violin, cello and piano, Choral Fantasia for solo piano, chorus and orchestra. Several Overtures, including four for Fidelio, called Fidelio or Leonora Overtures.
Choral and Vocal: Fidelio (opera), Missa Solemnis, the song cycle An die ferne Geliebte.
Chamber: sixteen string quartets, five string trios, four string quintets, ten sonatas for violin and piano (incl. "Spring, "Kreutzer"), five cello sonatas, six piano trios (incl. "Archduke," Ghost"), Quintet for wind instruments and piano.
Keyboard: 32 piano sonatas, many variation sets (incl. Eroica- and Diabellivariations), three sets of Bagatelles, Andante Favori, Für Elise, Rage over a Lost Penny.
Quote:
"I shall seize Fate by the throat; it shall certainly not bend and crush me completely" (letter, 1801)
Piano Sheet music by Ludwig van Beethoven to Download
| | | |
| --- | --- | --- |
| Download & Print | View in Mobile Device | For instant access to the printable sheet music of pices by Beethoven and thousands of other classical piano pieces, sign up for a Piano Street Gold Membership! |
Total pieces by Beethoven: 112
Posts in the piano forum about Beethoven:

Re: Schubert & Beethoven performers

September 15, 2006, 07:49:49 PM by kempff1234


it really depends on what oeuvre of these composers you are looking so: (my favs)

Beethoven:

Piano concerti- Wilhelm Kempff, Arthur Rubinstein, Artur Schnabel
Piano sonatas- Wilhelm Kempff, Artur Schnabel, Claudio Arrau and get your hands on as much as Solomon you can

Bagatelles- Alfred Brendel, Artur Schnabel
Variations- Alfred Brendel, Schnabel (Diabelli vars)
Violin sonatas- Kempff with Menuhin, Rubinstein with Heifetz
Cello sonatas- Kempff with Fournier, Schnabel with some one i don't remember
Misc.- Schnabel, Kempff, Brendel
Choral fantasy- Barenboim, Brendel
Triple concerto- Arrau
Trios- Kempff, Szyring and fournier

Schubert:

piano sonatas- Kempff, Brendel, Schnabel, Fischer
moment musicaux- Kempff
Impromptus- Fischer (Edwin), Schnabel, Kempff
Lieder- Fischer, Brendel with Fischer Dieskau
Wanderer fantasy- Arthur Rubinstein, Kempff, Brendel, Fischer


that's about it for me.



Pedalling in Beethoven

August 15, 2006, 01:27:42 AM by steve jones



This is going to be one of those REALLY broad questions, so please hang in there!

Id like to ask how typically the pedal is used in Beethoven's piano sonatas. Iv heard it said that one should leave the pedal well alone unless instructed, yet I find places where it seems logical to use it. But ofcourse, Im used to working on Chopin, so I am maybe a little 'pedal happy' for Beethoven?

Is the pedal used liberally in this music, is it more as directed only?

Cheers,

SJ




Re: Do you consider Alfred Brendel the best Beethoven interpreter?

December 05, 2004, 12:05:12 AM by bernhard


Not really.

I like Arrau, Backaus, Serkin, Kempf, Ivan Moracec and Andras Schiff far better.

However I do like his books and essays on music (don't care much for his poetry though). I listen to his CDs more as a "textbook" interpretation. There are far more inspired players out there.

Best wishes,
Bernhard.



How to learn to feel angry for playing Beethoven?

June 02, 2004, 04:55:02 AM by xvimbi


Someone I know has an interesting "problem". She has been told repeatedly that her Beethoven sonatas sound flat and that she needs to pack a lot more anger into playing them. However, she is a person who just cannot get angry in real life. How can she "learn" to feel angry? Obviously, as a musician, one has to be an actor to some extent and be able to express any type of emotion at any given moment, whether one feels it or not. Is this a case for a psychologist, or are there ways to learn how to express emotions, particularly anger, through the piano in a convincing way?