Edvard Grieg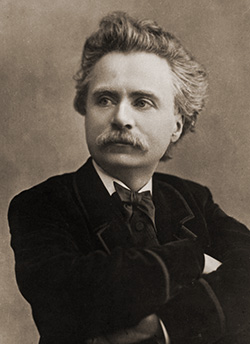 A large part of Edvard Grieg's output consists of short pieces for piano; colorful, lyrical, often evoking beautiful scenes of nature. His style can seem straightforward, modest and firmly traditional, but his love and deep knowledge of the Norwegian folk tradition enabled him to enrich the Romantic style with plenty of harmonic inventions, making him an admired and influential figure not least among French composers of the 20th century.
Top Pieces:
Piano Concerto in A Minor, Op. 16
The brilliance and virtuosity of this Concerto can seem far removed from Grieg's more subtle, lyrical creations for solo piano; but there is common ground, such as the distinct elements of Norwegian folk music.

To the Spring, Op. 43 No. 6
Grieg and his Scandinavian collegues - with their abundant experience of long and bleak winters - often evoked the magical emergence of spring. Here's one of the most beautiful examples.

Nocturne, Op. 54 No. 4
This soothing, ethereal night piece combines Grieg's signature folksong flavoring with an impressionistic mood, suspending time and evoking the Nightingale's call.



Biography
Edward Grieg (1843-1907) wanted to create, in his own words, music that would "give the Norwegian people an identity." In the summer of 1858, the legendary violinist Ole Bull noticed the fifteen year old Grieg´s talent and persuaded his parents to send him to the Leipzig Conservatory, where he was to study piano with Ignaz Moscheles. Despite disliking the conservatory discipline and being diagnosed with a severe lung disease, Grieg managed to graduate with good grades in 1862. He held his first concert in his hometown of Bergen but settled in Copenhagen, where he continued his composition studies with Niels Gade and met the composer of the Norwegian national anthem Rikard Nordraak, who became a source of great inspiration.
Against his family´s wishes, Grieg married his cousin Nina Hagerup, a talented pianist and singer. Shortly after their wedding, the couple moved to Oslo, where Grieg supported them by teaching piano and conducting. The following summer, Grieg wrote his Piano Concerto in A minor, a work that was received with great enthusiasm and would secure the composer´s reputation. In 1870, Grieg paid two visits to Liszt in Rome, during which the two composers went over Grieg´s first violin sonata, which pleased Liszt greatly, and the Piano Concerto, which Liszt proceeded to play by sight (including the orchestral arrangement). Though greatly impressed, Grieg gently pointed out to the older master that he played the first movement too quickly.
Supplying incidental music to the premiere of Henrik Ibsen´s Peer Gynt in 1876 proved to be the next major step in Grieg's career. This music became immensely popular and Grieg later scored it into two orchestral suites. He now enjoyed tremendous celebrity and continued travelling extensively, adhering to a surprisingly busy schedule considering his fragile health. In 1885, Grieg returned to his native Bergen, Norway, where he and Nina built their celebrated home, Troldhaugen, a popular tourist destination to this day. Many of Grieg's best-known works for piano are contained in the ten sets of Lyric Pieces, miniature character-pieces that span the whole of Grieg's development as a composer for the piano. Grieg died aged 64, after a long period of illness. The funeral drew between 30,000 and 40,000 people out on the streets of his home town to honour him.
Quotes by Grieg
"Artists like Bach and Beethoven erected churches and temples on the heights. I only wanted [...] to build dwellings for men in which they might feel happy and at home."
Quotes about Grieg
"You can't imagine the power Grieg's music had in Paris. Suddenly, our windows were open to the country and we were reminded we lived in flats, with closed doors and windows, ignoring what are rivers, trees, and birds... then came a musician who had knowledge of all that and used it in his music. It did us a lot of good and everyone was grateful to him. Through him we could perceive the mountains and the sea, gnomes and giants, a world that the city had made us forget." (Ravel)
Grieg Piano Sheet Music
for digital devices or to download & print
Total pieces by Grieg: 219
ID:16
Forum posts about Edvard Grieg