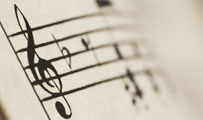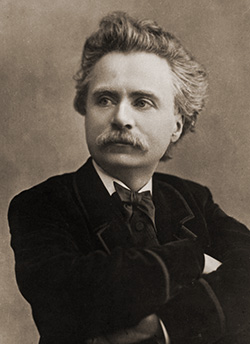 Grieg - Piano Music
Edward Grieg
(1843-1907) wanted to create, in his own words, music that would "give the Norwegian people an identity."
In the summer of 1858, the legendary violinist Ole Bull noticed the fifteen year old Grieg´s talent and persuaded his parents to send him to the Leipzig Conservatory, where he was to study piano with Ignaz Moscheles.
Despite disliking the conservatory discipline and being diagnosed with a severe lung disease, Grieg managed to graduate with good grades in 1862. He held his first concert in his hometown of Bergen but settled in Copenhagen, where he continued his composition studies with Niels Gade and met the composer of the Norwegian national anthem Rikard Nordraak, who became a source of great inspiration.
Against his family´s wishes, Grieg married his cousin Nina Hagerup, a talented pianist and singer. Shortly after their wedding, the couple moved to Oslo, where Grieg supported them by teaching piano and conducting. The following summer, Grieg wrote his
Piano Concerto in A minor
, a work that was received with great enthusiasm and would secure the composer´s reputation.
In 1870, Grieg paid two visits to
Liszt
in Rome, during which the two composers went over Grieg´s first violin sonata, which pleased Liszt greatly, and the Piano Concerto, which Liszt proceeded to play by sight (including the orchestral arrangement). Though greatly impressed, Grieg gently pointed out to the older master that he played the first movement too quickly.
Supplying incidental music to the premiere of Henrik Ibsen´s
Peer Gynt
in 1876 proved to be the next major step in Grieg's career. This music became immensely popular and Grieg later scored it into two orchestral suites.
He now enjoyed tremendous celebrity and continued travelling extensively, adhering to a surprisingly busy schedule considering his fragile health.
In 1885, Grieg returned to his native Bergen, Norway, where he and Nina built their celebrated home, Troldhaugen, a popular tourist destination to this day.
Many of Grieg's best-known works for piano are contained in the ten sets of
Lyric Pieces
, miniature character-pieces that span the whole of Grieg's development as a composer for the piano.
Grieg died aged 64, after a long period of illness. The funeral drew between 30,000 and 40,000 people out on the streets of his home town to honour him.
Quote:
"Artists like
Bach
and
Beethoven
erected churches and temples on the heights. I only wanted [...] to build dwellings for men in which they might feel happy and at home."
Piano Sheet music by Edvard Grieg to Download
| | | |
| --- | --- | --- |
| Download & Print | View in Mobile Device | For instant access to the printable sheet music of pices by Grieg and thousands of other classical piano pieces, sign up for a Piano Street Gold Membership! |
Total pieces by Grieg: 161
Posts in the piano forum about Grieg:

Re: What about Grieg?

November 12, 2007, 01:44:47 PM by mcgillcomposer


Can you tell me some of the best Grieg compositions for piano solo?

If you please, describe some characteristics like: are they too small or too long? Are they very hard to play for a regular-non-professional piano player?
And everything else you want to coment about the musics you post...




The sonata in e minor is very diverse in character, is fairly short (for a Romantic period sonata), and is moderate in difficulty - perhaps advanced for the typical non-professional. It contains an alberti-like bass figure that spans a tenth which may cause difficulty for some.



Re: Grieg

September 05, 2007, 06:27:30 AM by ahinton


Years ago, I used to be rather sniffy about Grieg's music, which fact says far more about my ignorance of some of it at the time than it can possibly tell about Grieg. I still find the piano concerto largely tiresome (even after having heard some pretty convincing performances of it), with its persistent 2- and 4- bar phrases glued together, but there's much finer Grieg than this. The Lyric Pieces, for example, owe more to Schumann than to Chopin, but they're none the worse for that and there's no end of characterful and skilful writing there, even though it's hardly destined to set the world alight. I actually wrote a set of piano variations on Åse's Death from the Peer Gynt music years ago (which, if you'll forgive the shameless advertising, gets its next performance in Esbjerg, Denmark at the hands of Jørgen Hald Nielsen on 13 November this year; it's been recorded by Donna Amato on Altarus - AIR-CD-9021 - along with some shorter works including Ronald Stevenson's transcription of Grieg's song Den Bergtekne).

Best,

Alistair



Grieg recommendations

February 22, 2007, 11:30:07 AM by hodevold


I was wondering if someone could recommend some piano pieces by my countryman Edvard Grieg. I own just about all of his work, but I have no idea where to start. Im a jazzpianist, and my readingskills are not as good as they should be. I want to improve them, and since I love Grieg I want to play his work. Any ideas where to start?



Re: Edward Grieg's pieces

July 08, 2004, 04:56:28 PM by rlefebvr


Thanks to this Forum, he is now one of my favorite composers.
His Lyric pieces are out of this world. I am now working on one of his pieces Melody Op47 No3

So that being said there is stuff about him, but I think it's meshed with other stuff. Problably why you found nothing.

Peif Ove Andsnes has a great CD with some of the Lyric pieces on it. It's called Grieg Lyric Pieces. (go figure)

Anyway, that's all I listlen to these days, check it out if you want a taste.