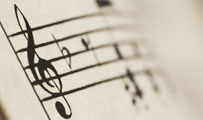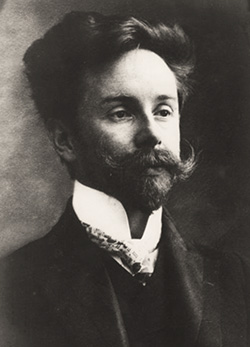 Scriabin - Piano Music
When
Alexander Scriabin
(1872-1915) was only a year old his mother, a concert pianist, died of tuberculosis. The father left St. Petersburg to become a diplomat in Turkey, leaving Alexander to live with his grandmother and his aunt, an amateur pianist who documented Scriabin's early life.
As a child Scriabin was fascinated with pianistic mechanisms, and tried to build his own pianos which he then gave away to visitors. He was very shy and unsociable, but would perform his own plays and operas with puppets to willing audiences.
He took piano lessons with Nikolai Zverev, the teacher of
Rachmaninoff
and several other prodigies of the time. Eventually Scriabin graduated from the Moscow Conservatory with the Little Gold Medal in piano performance, but he did not complete a composition degree, because of disagreements with his teacher Arensky.
Nevertheless, after performing his own works to very positive reviews Scriabin was engaged to compose for the Belaieff publishing firm, which included other notable composers such as
Rimsky-Korsakov
and
Glazunov
.
In 1898 he became a professor of piano at the Moscow Conservatory, an occupation with which he became increasingly bored. Soon, he left both his teaching position and his wife, married one of his pupils and spent several years travelling between Switzerland, Italy, France, Belgium and America, before returning to Russia permanently in 1909.
Since 1905 he had been under the influence of theosophy and mystical ideas, and he regarded his works from that date as preparation for a "supreme ecstatic mystery". For some time before his death he planned a multi-media work to be performed in the Himalayas, "a grandiose religious synthesis of all arts which would herald the birth of a new world." The sketches for this piece, Mysterium, were eventually made into a performable version by Alexander Nemtin.
Scriabin´s early works are strongly flavoured by
Chopin
and
Liszt
.
As he developed his personal theories he grew harmonically bolder, using chords built of 4ths and sometimes of 2nds, achieving what has sometimes been called "impressionist atonality". A hypochondriac his entire life, he died at the age of 43 from septicemia, contracted as a result of a shaving cut on his lip.
Major works:
Orchestral: 3 Symphonies, The poem of ecstasy, Prometheus: the poem of Fire, Piano Concerto
Keyboard: 10 Piano Sonatas, Études, Préludes, Waltzes, Impromptus, Mazurkas etc.
Piano Sheet music by Alexander Scriabin to Download
| | | |
| --- | --- | --- |
| Download & Print | View in Mobile Device | For instant access to the printable sheet music of pices by Scriabin and thousands of other classical piano pieces, sign up for a Piano Street Gold Membership! |
Total pieces by Scriabin: 150
Posts in the piano forum about Scriabin:

Scriabin's music

October 21, 2007, 10:25:49 PM by soderlund


Does anyone have a reliable list of his works? I have searched the internet but I can't find anything good. I would like to know which of his works are atonal, for example, all sources say different things.



Scriabin is G-O-D !

September 18, 2006, 05:37:51 PM by hodi


HE WROTE THE BEST PIANO SONATAS! (After beethoven)
the most gothic and atmopheric preludes
he had dark romantic style and a total new tonality and structure
he is underrated here
comeon!
the ultimate scriabin thread
talk talk talk just scriabin



Re: Scriabin

April 17, 2006, 02:33:36 AM by bertrand


Scriabin was a miniaturist by nature and wrote preludes througout his life, so the complete preludes give you a good idea of the broad sweep of his output, from the chopinesque (and very beautiful) Op.11 preludes written between 1888 and 1896 to the modernist op.74 written in 1914. However I haven't found any really good recordings of the complete preludes - any recommendations? (Don't say Piers Lane as I already have his double cd and it's awful).



Scriabin and his two periods

March 22, 2006, 02:25:48 AM by presto agitato


As we all know in his first composition period he was very influenced by Chopin´s music. In his second period, he did revolution the music for piano by developed a new style and a new idiom.


As far as i know every piece that he wrote after 1903 belong to his second period. Is this correct?

What is your favorite piano piece (other than his sonatas) of his second period?



Do you agree?