Alexander Scriabin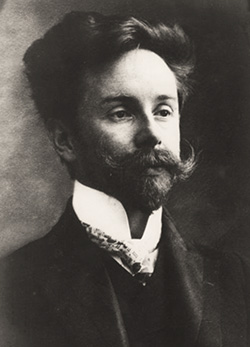 One of the most eccentric musical personalities of the late Romantic/early Modern era, Scriabin created a unique musical system, aligned with his mystical world view and adapted to his synesthesia (associating tones and tonalities with colours). He began composing in a style very influenced by Chopin, but his later works invite us into an atonal, very distinctive soundworld: complex, mystical, extatic...
Top Pieces:
Etude in C-sharp Minor, Op. 2 No. 1
A 16-year old Scriabin wore his heart upon his sleeve in this charming work, which ends in a loving pianissimo. Its simple melody seems to express longing for some distant goal.
Etude in D-sharp Minor, Op. 8 No. 12
The pounding octaves and building intensity of this piece requires a lot of energy. Because of the way the piece grabs you and doesn't let go, it's a definite showstopper!
Sonata 2 in G-sharp Minor, Op. 19
Scriabin based his second sonata on a seaside holiday, using the keyboard to paint the images of waves, seagulls, and ocean breezes.

Vers la flamme - Poème Op. 72
This piece describes the world's inexorable slide toward death and destruction by fire. Like many of Scriabin's late works, it's notorious for its difficulty and the physical demands it places on the performer.

Biography
When Alexander Scriabin (1872-1915) was only a year old his mother, a concert pianist, died of tuberculosis. The father left St. Petersburg to become a diplomat in Turkey, leaving Alexander to live with his grandmother and his aunt, an amateur pianist who documented Scriabin's early life. As a child Scriabin was fascinated with pianistic mechanisms, and tried to build his own pianos which he then gave away to visitors. He was very shy and unsociable, but would perform his own plays and operas with puppets to willing audiences. He took piano lessons with Nikolai Zverev, the teacher of Rachmaninoff and several other prodigies of the time.
Eventually Scriabin graduated from the Moscow Conservatory with the Little Gold Medal in piano performance, but he did not complete a composition degree, because of disagreements with his teacher Arensky. Nevertheless, after performing his own works to very positive reviews Scriabin was engaged to compose for the Belaieff publishing firm, which included other notable composers such as Rimsky-Korsakov and Glazunov. In 1898 he became a professor of piano at the Moscow Conservatory, an occupation with which he became increasingly bored. Soon, he left both his teaching position and his wife, married one of his pupils and spent several years travelling between Switzerland, Italy, France, Belgium and America, before returning to Russia permanently in 1909.
Since 1905 he had been under the influence of theosophy and mystical ideas, and he regarded his works from that date as preparation for a "supreme ecstatic mystery". For some time before his death he planned a multi-media work to be performed in the Himalayas, "a grandiose religious synthesis of all arts which would herald the birth of a new world." The sketches for this piece, Mysterium, were eventually made into a performable version by Alexander Nemtin.
Scriabin´s early works are strongly flavoured by Chopin and Liszt. As he developed his personal theories he grew harmonically bolder, using chords built of 4ths and sometimes of 2nds, achieving what has sometimes been called "impressionist atonality". A hypochondriac his entire life, he died at the age of 43 from septicemia, contracted as a result of a shaving cut on his lip.
Quotes by Scriabin
"I am God! I am nothing, I'm play, I am freedom, I am life. I am the boundary, I am the peak."
"There will not be a single spectator. All will be participants. The work requires special people, special artists and a completely new culture. The cast of performers includes an orchestra, a large mixed choir, an instrument with visual effects, dancers, a procession, incense, and rhythmic textural articulation. The cathedral in which it will take place will not be of one single type of stone but will continually change with the atmosphere and motion of the Mysterium. This will be done with the aid of mists and lights, which will modify the architectural contours." (About his unrealised Magnum Opus Mysterium, a seven-day-long megawork meant to be performed at the foothills of the Himalayas in India, after which the world would dissolve in bliss.)
Quotes about Scriabin
"Scriabin isn't the sort of composer whom you'd regard as your daily bread, but is a heavy liqueur on which you can get drunk periodically, a poetical drug, a crystal that's easily broken." (Sviatoslav Richter)
"In this poet, in this prophet, there lived a refined, almost pedantic formalist who demanded accuracy in all that concerned his creative work. Perfection of form and precision of execution were his characteristic traits." (Boris de Schloezer)
Scriabin Piano Sheet Music
for digital devices or to download & print
Total pieces by Scriabin: 150
ID:32
Forum posts about Alexander Scriabin