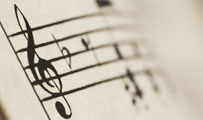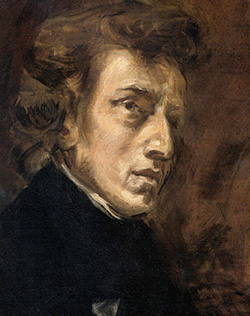 Chopin - Piano Music
Brought up in Warsaw by a Polish mother and a French father,
Frédéric Chopin
(1810-1849) was more or less self-taught as a performer.
Even his first teacher Wojciech Zywny didn't have much to offer him in terms of technique, but still did his pupil a great service by introducing him to
Bach
and Viennese Classicism.
Later, Chopin received thorough training in composition at the High School of Music in Warsaw. Around his twenties, he grew increasingly troubled about his future – he loved his native country, but at the same time deplored the provinciality of it. He embarked on a European tour, still doubting the path of public pianist-composer and resenting the extreme publicity surrounding his concerts. One week after arriving in Vienna, he had news of the Warsaw uprising against the Russian rulers.
Chopin would have liked to return immediately, but was dissuaded by friends pointing out that his contribution to the Polish cause could best be made in other ways.
The Russians were victorious, which made a return to Poland impossible; Chopin continued to Paris. From the start he felt at home there, not least because there were Polish émigrés everywhere but also because he was overwhelmed by the city's cultural life.
He made friends with other young artists, including
Liszt
and Berlioz, and with the help of Frédéric Kalkbrenner arranged his first Parisian concert early in 1832.
In the following years his reputation grew steadily, and he settled into a stable routine of teaching, composing and performing, mostly in the intimate setting of the salons.
In 1838 Chopin began his love affair with the novelist George Sand; together they spent the winter months of 1838–9 in Majorca. This proved an ill-considered venture: their accommodation was quite unable to withstand the harsh winter, and Chopin's already fragile health worsened.
During the first half of the 1840s, Chopin would spend the summers composing in Sand's home in Berry, but work became increasingly slow and laborious as his health deteriorated further.
In 1846, the relationship with Sand came to an end; her novel Lucrezia Floriani, published the same year, was blatantly autobiographical and far from flattering to Chopin.
In his last year, he managed to make a tour of the British Isles; after his return, as the word quickly spread that he was dying, friends and acquaintances gathered constantly around him. Pauline Viardot remarked cynically that "all the grand Parisian ladies considered it de rigueur to faint in his room."
He died in the presence of his pupil Adolphe Gutman and Sand's daughter Solange.
Major works:
Piano and orchestra: two piano concertos, Fantasia on Polish Airs, Krakowiak, Andante Spianato and Grand polonaise, variations on La ci darem la mano (Mozart, Don Giovanni)
Chamber music: Cello Sonata, Introduction and Polonaise brilliant for cello and piano, Grand Duo Concertante for cello and piano, Piano Trio
Piano solo: three Sonatas, four Ballades, four Scherzos, four Impromptus, Nocturnes, Studies, Preludes, Waltzes, Polonaises, Mazurkas, Barcarolle, Fantasy in f minor, etc.
Quotes:
"Simplicity is the highest goal, achievable when you have overcome all difficulties. After one has played a vast quantity of notes and more notes, it is simplicity that emerges as the crowning reward of art."
Robert Schumann
on Chopin: "It was an unforgettable picture to see Chopin sitting at the piano like a clairvoyant, lost in his dreams; to see how his vision communicated itself through his playing, and how, at the end of each piece, he had the sad habit of running one finger over the length of the plaintive keyboard, as though to tear himself forcibly away from his dream."
Piano Sheet music by Frédéric Chopin to Download
| | | |
| --- | --- | --- |
| Download & Print | View in Mobile Device | For instant access to the printable sheet music of pices by Chopin and thousands of other classical piano pieces, sign up for a Piano Street Gold Membership! |
Total pieces by Chopin: 181
Posts in the piano forum about Chopin:

Picking a Chopin piece. Suggestions?

June 21, 2007, 09:27:08 PM by ekirth


I recently got some new music (post-exams!)...and I've got to pick a Chopin piece. The choices are among the Chopin ballades (no. 1 or 2 or 4), and the heroic polonaise. Needless to say, I'm very excited.

I've just begun to learn Liszt's La Campanella (first Liszt piece

). I've played some Chopin etudes (op. 10 n. 5 and op. 25 n. 1), a polonaise, etc. before, as well as Schumann's Papillons, a couple of Rach preludes, some of the Beethoven sonatas, and a Bach English suite. (Hopefully that gives a vague idea of technical level...)

So, the question is: if you had to pick between Chopin's ballade no. 1, no. 2, no. 4, and the heroic polonaise, which would you pick? Why? If you can, disregard the "overplayed" factor.



Thanks for your help!



Chopin and the pedals

October 28, 2004, 08:58:55 AM by fingerknot


Was Chopin careful with his notation of pedal in his works? In my edition of his preludes there is not that much pedal indicated. Examples:

no 2: no pedal indicated at all. I use the sostenuto pedal to get LH legato.

no 4: Almost no pedal indication. Again, I like to use the sostenuto pedal to get LH legato

no 15: No pedal indication at all up to the switch to C# minor.

In other editions there can be quite a lot pedalling, so wonder if Chopin didn't notate that?
I know that sostenuto pedal wasn't invented at Chopins time, but I need all help I can get...

Another question is about how to interpret Largo (#4) and Lento (#2)?
What tempi do you use?



Chopin- tempo marks

October 28, 2004, 02:32:17 AM by pauholio


Hey all,

I believe that the tempo marks in chopins pieces should always be observed not just that but when he doen't mark them you don't change tempo. If chopin had wanted a change in tempo such as in Waltze in G minor where there are 6 tempo changes if he wants a change he would have marked it.
This came to me recently because i head the english pianist Fladamere whatever play Waltz in E Minor at an insane speed for part of it then slow down at the parts where it can be played that fast. He did a large part of the piece at some insane speed, just to show off then when it came to the sweet part he slowed which is not what chopin would have wanted.

Do other people play with their own tempo changes cause i believe thats not what chopin was trying to do?



Re: "Easy" Chopin Pieces

July 11, 2003, 12:48:41 AM by 88keys


That depends what you mean by "easy"...

But here are a few pieces you might want to look into:

Preludes Op. 28: No. 4, 6, 7 and 20
Waltz in A minor, Op. 34/2
Waltz in Ab major, Op. 69/1 ("L'adieu")
Waltz in F minor, Op. 70/2

Chopin also wrote something like 80 Mazurkas, ranging from very easy to moderately difficult. Perhaps someone who has the sheet music can recommend specific ones to you.