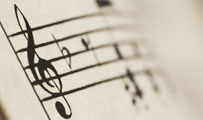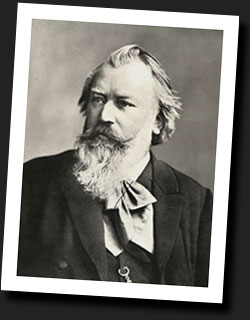 Brahms - Piano Music
There are many stories of
Johannes Brahms
´s (1833-1897) prickliness, sarcasm and tactlessness – but it would be equally true to describe him as a generous and kind man.
Achieving considerable wealth in later years, he never spent it on himself, but helped his family as well as younger composers. A voracious reader throughout his life, he ended up with a well-used library of over 800 titles including poetry, fiction, drama, history, art, philosophy, religion and travel. Growing up in simple circumstances, Brahms gave piano lessons and played popular music at private gatherings and in restaurants.
All youthful efforts to compose fell victim to his intense self-scrutiny. A turning point came in 1853 when Brahms met
Robert
and
Clara Schumann
. Robert hailed Brahms as the true musician of the future in a famous essay ("Neue Bahnen") of the same year.
After Robert´s nervous breakdown and suicide attempt Brahms gave up everything he was doing to assist Clara, developing a strong romantic passion for her, while she probably viewed him more as a devoted son.
When Robert died Brahms and Clara went their separate ways, nevertheless remaining the closest of friends. Brahms went through a period of depression and low productivity, but renewed studies of counterpoint and early music enabled a glorious comeback in the 1860s with a series of chamber works (incl. string sextets, piano quintet, piano quartets) and piano pieces (
Handel variations
and
Paganini variations
).
The critical acclaim of his German Requiem, written after his mother's death, established Brahms as a major composer, but he still struggled to master the string quartet and the symphony.
Not until he was 40 did he complete the first two quartets (Op. 51) that he considered worthy of publication; three years later came the
Symphony no.1 in C minor
, which had occupied him for at least fifteen years.
A steady stream of mature orchestral works followed, among them three more symphonies and the second piano concerto.
By 1890 Brahms was ready to retire from composing, but meeting the clarinettist Richard Mühlfeld started a surge of creativity that enriched the repertory for that instrument remarkably, with two sonatas (Op.120), one trio (Op. 114) and one quintet (Op.115).
In his later years Brahms condensed his musical thought almost to the extreme. Examples of this compact and forward-looking style are the piano pieces Opp. 116-119, and the last piece Brahms published, Vier ernste Gesänge, written in connection with the death of Clara Schumann.

Major works:
Orchestral Music: four symphonies, two Piano Concertos, Violin Concerto, Double Concerto for violin and cello, two serenades, Variations on a Theme by Haydn, Academic Festival Overture, Tragic Overture, arrangements of Hungarian Dances.
Chamber Music: three violin sonatas, two cello sonatas, two clarinet or viola sonatas, clarinet trio, clarinet quintet, three piano trios, horn trio, three piano quartets, piano quintet, three String Quartets, two string sextets and two string quintets
Piano Music: three piano sonatas, Variations on a Theme of Handel, Paganini Variations, four Ballades and many shorter pieces, fantasias and intermezzos. Hungarian Dances and several other works and arrangements for piano four hands.
Vocal and Choral Music: German Requiem, Alto Rhapsody, Schicksalslied, Liebeslieder Waltzer (vocal quartet and piano duet), a large number of songs with piano (incl. Vier Ernste Gesänge, Wiegenlied, Vergebliches Ständchen, Gestillte Sehnsucht, Geistliches Wiegenlied)


Quote:
George Bernard Shaw on Brahms: "He is the most wanton of composers [...] Only his wantonness is not vicious; it is that of a great baby [...] rather tiresomely addicted to dressing himself up as Handel or Beethoven and making a prolonged and intolerable noise."


Piano Sheet music by Johannes Brahms to Download
| | | |
| --- | --- | --- |
| Download & Print | View in Mobile Device | For instant access to the printable sheet music of pices by Brahms and thousands of other classical piano pieces, sign up for a Piano Street Gold Membership! |
Total pieces by Brahms: 157