Johannes Brahms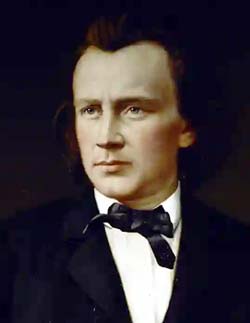 Brahms is a composer who explores profound emotional depths, both in the monumental sonatas of his youth and in the gentle miniatures of his old age. But the power of his music also lies in its magnificent architecture and sense of development. His streak of nostalgic sadness came partly from thwarted love, and partly from his sense of being alone in upholding the Classical tradition. Thus, already his contemporaries spoke of the "three great B:s" - meaning Bach, Beethoven, and Brahms.
Top Pieces:

Intermezzo in A Major, Op. 118 No. 2
This lyrical, moving, nocturne-like Intermezzo pulls us into a world of dreamy nostalgia and quiet longing. It sways tenderly like a lullaby, with the typical Brahmsian sophisticated web of inner voices.

Hungarian Dance 5 - solo piano version
Already as a teenager, Brahms was fascinated by the music of the Roma people. When he published his brilliant arrangements of Roma tunes, the success was immediate and phenomenal.

Piano Concerto 1 in D Minor, Op. 15
This gigantic and powerful work drew its sad inspiration from the attempted suicide of Brahms' friend Robert Schumann. The music veers between cataclysmic outbursts and soothing, dreamlike passages, until the finale emerges confidently into the sunlight.

Biography
There are many stories of Johannes Brahms´s (1833-1897) prickliness, sarcasm and tactlessness – but it would be equally true to describe him as a generous and kind man. Achieving considerable wealth in later years, he never spent it on himself, but helped his family as well as younger composers. A voracious reader throughout his life, he ended up with a well-used library of over 800 titles including poetry, fiction, drama, history, art, philosophy, religion and travel. Growing up in simple circumstances, Brahms gave piano lessons and played popular music at private gatherings and in restaurants. All youthful efforts to compose fell victim to his intense self-scrutiny. A turning point came in 1853 when Brahms met Robert and Clara Schumann. Robert hailed Brahms as the true musician of the future in a famous essay ("Neue Bahnen") of the same year. After Robert´s nervous breakdown and suicide attempt Brahms gave up everything he was doing to assist Clara, developing a strong romantic passion for her, while she probably viewed him more as a devoted son.
When Robert died Brahms and Clara went their separate ways, nevertheless remaining the closest of friends. Brahms went through a period of depression and low productivity, but renewed studies of counterpoint and early music enabled a glorious comeback in the 1860s with a series of chamber works (incl. string sextets, piano quintet, piano quartets) and piano pieces (Handel variations and Paganini variations). The critical acclaim of his German Requiem, written after his mother's death, established Brahms as a major composer, but he still struggled to master the string quartet and the symphony. Not until he was 40 did he complete the first two quartets (Op. 51) that he considered worthy of publication; three years later came the Symphony no.1 in C minor, which had occupied him for at least fifteen years.
A steady stream of mature orchestral works followed, among them three more symphonies and the second piano concerto. By 1890 Brahms was ready to retire from composing, but meeting the clarinetist Richard Mühlfeld started a surge of creativity that enriched the repertory for that instrument remarkably, with two sonatas (Op.120), one trio (Op. 114) and one quintet (Op.115). In his later years Brahms condensed his musical thought almost to the extreme. Examples of this compact and forward-looking style are the piano pieces Opp. 116-119, and the last piece Brahms published, Vier ernste Gesänge, written in connection with the death of Clara Schumann.
Quotes by Brahms
"Without craftsmanship, inspiration is a mere reed shaken in the wind."
"It is not hard to compose, but what is fabulously hard is to leave the superfluous notes under the table."
"If there is anyone here I have failed to insult, I beg his pardon"
Quotes about Brahms
"I can truly say, my children, that I have never loved a friend as I loved him; it is the most beautiful mutual understanding of two souls. I do not love him for his youthfulness, nor probably for any reason of flattered vanity. It is rather his elasticity of spirit, his fine gifted nature, his noble heart that I love" (Clara Schumann)
"He is the most wanton of composers [...] Only his wantonness is not vicious; it is that of a great baby [...] rather tiresomely addicted to dressing himself up as Handel or Beethoven and making a prolonged and intolerable noise."(George Bernard Shaw)
Brahms Piano Sheet Music
for digital devices or to download & print
Total pieces by Brahms: 158
ID:6
Forum posts about Johannes Brahms