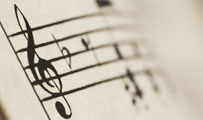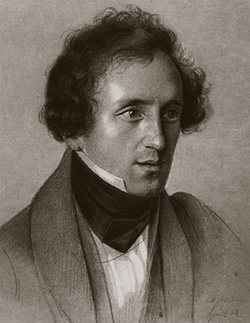 Mendelssohn - Piano Music
As a child,
Felix Mendelssohn
(1809—1847) was the sort of musical prodigy whose stature could rival that of
Mozart
fifty years earlier.
Growing up in a distinguished Berlin family of intellectuals and bankers, he spent some time at the University of Berlin, but most of his education was received through family travel and through eminent visitors to the parents' salon: early influences included the poetry of Goethe, whom he knew from 1821, and the Schlegel translations of Shakespeare. His musical style, fully developed before he was 20, drew upon a variety of influences, including the complex chromatic counterpoint of Bach, the clarity and gracefulness of Mozart and the dramatic power of
Beethoven
. Mendelssohn was one of the foremost champions of
Bach
's music in th 19th century: his 1829 performance of the St. Matthew Passion at the Berlin Singakademie became legendary.
After holding the position as music director in Düsseldorf for two years, Mendelssohn moved to Leipzig in 1835, where he became music director of the Gewandhaus Orchestra, a post that he held until his death.
His marriage to Cécile Jeanrenaud in 1838 seems to have been very happy and calm to a degree that one would not expect from a romantic composer.
Throughout the rest of his life he stood at the forefront of German music, in great demand as a conductor, pianist, organist and composer. He was intermittently employed by the king as a composer and choirmaster in Berlin, and internationally sought after as a festival organiser. In Leipzig he established a new conservatory, which still bears his name.
Mendelssohn suffered from bad health in the final years of his life, and he was greatly distressed by the death in May 1847 of his sister
Fanny
. His own death later that same year after a series of strokes, was announced in The Musical World as the "eclipse of music."
Major works:
Orchestral: 5 symphonies (incl. no 3 "Scottish", and no 4 "Italian"), incidental music for A Midsummer Night´s Dream, concert overtures incl. A Midsummer Night´s Dream and The Hebrides, Violin Concerto in E minor, two piano concertos.
Vocal: The oratorios Elijah and St Paul, and a large quantity of other sacred and secular choral songs (incl. Hear my Prayer and Hark the herald angels sing), as well as solo songs with piano.
Chamber: Octet, two string quintets and six string quartets, two piano trios, two cello sonatas, Variations Concertantes for cello and piano
Piano: 8 albums of Lieder ohne Worte (Songs without Words)
Quotes:
Hector Berlioz about Mendelssohn: "There is one god – Bach – and Mendelssohn is his prophet."
Piano Sheet music by Felix Mendelssohn to Download
| | | |
| --- | --- | --- |
| Download & Print | View in Mobile Device | For instant access to the printable sheet music of pices by Mendelssohn and thousands of other classical piano pieces, sign up for a Piano Street Gold Membership! |
Total pieces by Mendelssohn: 102