Mendelssohn - Piano Music
Felix Mendelssohn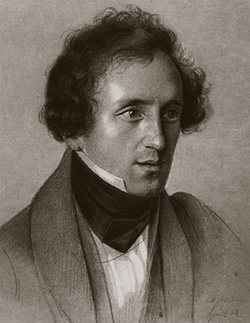 Mendelssohn's style combines the graceful formal balance of classicism with the inspirations of a romantic fantasy. He rarely expresses tearing passions or emotional turmoil, which has left him open to accusations of being shallow, dull or artificial. But his contemporaries were of another opinion altogether. The public were drawn to his lyricism and vitality, Schumann called him 'a god among men'; and to Liszt, Mendelssohn was 'Bach reborn'.
Top Pieces:

Spring Song, Op. 62 No. 6
(from Songs Without Words)
Light-hearted, tender and graceful, this song was composed when Mendelssohn visited friends in London. The unconventional accompaniment pattern is said to have been improvised on the spot when the playful children of the house tried to drag his hands from the piano.


Rondo Capriccioso in E Major, Op. 14
This popular concert piece combines two of Mendelssohn's specialties: the first section is a short, lyrical "song without words", and the second part is a light and sparkling scherzo.

Variations Sérieuses in D Minor, Op. 54
Mendelssohn's most important and forward-looking work; the title was deliberately chosen to distinguish it from the frequent, superficial "Variations brillantes" of the time.

Biography
As a child, Felix Mendelssohn (1809—1847) was the sort of musical prodigy whose stature could rival that of Mozart fifty years earlier. Growing up in a distinguished Berlin family of intellectuals and bankers, he spent some time at the University of Berlin, but most of his education was received through family travel and through eminent visitors to the parents' salon: early influences included the poetry of Goethe, whom he knew from 1821, and the Schlegel translations of Shakespeare. His musical style, fully developed before he was 20, drew upon a variety of influences, including the complex chromatic counterpoint of Bach, the clarity and gracefulness of Mozart and the dramatic power of Beethoven. Mendelssohn was one of the foremost champions of Bach's music in th 19th century: his 1829 performance of the St. Matthew Passion at the Berlin Singakademie became legendary.
After holding the position as music director in Düsseldorf for two years, Mendelssohn moved to Leipzig in 1835, where he became music director of the Gewandhaus Orchestra, a post that he held until his death. His marriage to Cécile Jeanrenaud in 1838 seems to have been very happy and calm to a degree that one would not expect from a romantic composer. Throughout the rest of his life he stood at the forefront of German music, in great demand as a conductor, pianist, organist and composer. He was intermittently employed by the king as a composer and choirmaster in Berlin, and internationally sought after as a festival organiser. In Leipzig he established a new conservatory, which still bears his name. Mendelssohn suffered from bad health in the final years of his life, and he was greatly distressed by the death in May 1847 of his sister Fanny. His own death later that same year after a series of strokes, was announced in The Musical World as the "eclipse of music."
Quotes by Mendelssohn
"People often complain that music is too ambiguous, that what they should think when they hear it is so unclear, whereas everyone understands words. With me, it is exactly the opposite, and not only with regard to an entire speech but also with individual words. These, too, seem to me so ambiguous, so vague, so easily misunderstood in comparison to genuine music, which fills the soul with a thousand things better than words. The thoughts which are expressed to me by music that I love are not too indefinite to be put into words, but on the contrary, too definite."
Quotes about Mendelssohn
"He is the Mozart of the nineteenth century, the brightest musician who most clearly fathoms, and then reconciles the contradictions of our time -- classicism and romanticism." (Schumann)
"There is one god – Bach – and Mendelssohn is his prophet." (Berlioz)
Mendelssohn Piano Sheet Music
for digital devices or to download & print
Total pieces by Mendelssohn: 102
ID:23
Forum posts about Felix Mendelssohn