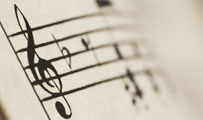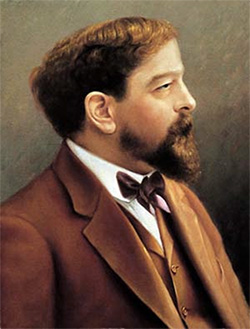 Debussy - Piano Music
Although he himself wished to reserve the term for the visual arts,
Claude Debussy
(1862-1918) has often been considered the founder of musical Impressionism.
Indeed he added a quite new range of timbre and colour to western classical music. When graduating from the Paris Conservatory he won the prestigious Prix de Rome, which financed two years of further study in the Italian capital, where he had the opportunity to meet
Franz Liszt
. He also made two trips to Wagner's Bayreuth.
Back in Paris he became a frequent participant at Stéphane Mallarmé's symbolist gatherings and formed friendships with many leading Parisian writers, musicians and artists.
At the Universal Exposition of 1889 he became fascinated by the music of eastern cultures, especially the Javanese gamelan, a discovery that made him want to get away from Wagner's influence. The year 1894 saw the sensational premiere of his
Prélude à l´après-midi d´un faune
, immediately launching Debussy into the spotlight as one of the leading composers of the era.
The opera
Pelléas et Mélisande
made a similar impact, and caused a lasting division among Paris audiences between the forward-looking believers in "Debussyism" and those who failed to appreciate his style.
Debussy cohabited in Paris with Gabrielle Dupont for nine years before marrying her friend Rosalie Texier, a fashion model, in 1899. Increasingly irritated by Texier's lack of intellectual and musical interest, Debussy left her for Emma Bardac, the wife of a Parisian banker and an accomplished singer. Texier, like Dupont before her, attempted suicide. The scandal obliged Debussy and Bardac (already carrying his child) to flee to England until the hysteria subsided. The couple were eventually married in 1908.
Debussy spent his remaining years immersed in French musical society, writing as a critic, composing, and performing as pianist and conductor.
The war depressed Debussy into a state of creative sterility, but the summer of 1915 marked the start of a new productive era: in quick succession he composed the Cello Sonata,
En blanc et noir
, the
Etudes
, and the
Sonata
for flute, viola and harp.
Unfortunately, at the end of the year he had to undergo a debilitating colostomy for rectal cancer, one of the very first such operations.
Many of his planned projects remained unrealized, but he managed to complete the Violin Sonata in 1917.
He died in Paris during the bombardment of Paris in the last German offensive of World War I.
Major works:
Orchestral: Prélude à l´après-midi d´un faune, La Mer, Three Nocturnes, Images, Fantasie for piano and orchestra.
Chamber music: String Quartet, Violin Sonata, Cello Sonata, Sonata for flute, viola and harp. Syrinx, for unaccompanied flute.
Vocal: Pelléas et Mélisande (opera), many songs with piano (including settings of Verlaine, Mallarmé, Francois Villon etc).
Piano solo: Préludes Book 1 & 2, Estampes, Images 1 & 2, Suite Bergamasque (incl. Clair de lune), 12 Études, two Arabesques, L'isle joyeuse, Children´s Corner.
Piano Sheet music by Claude Debussy to Download
| | | |
| --- | --- | --- |
| Download & Print | View in Mobile Device | For instant access to the printable sheet music of pices by Debussy and thousands of other classical piano pieces, sign up for a Piano Street Gold Membership! |
Total pieces by Debussy: 100