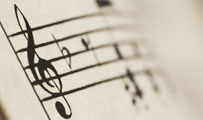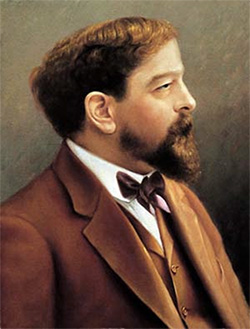 Debussy - Piano Music
Although he himself wished to reserve the term for the visual arts,
Claude Debussy
(1862-1918) has often been considered the founder of musical Impressionism.
Indeed he added a quite new range of timbre and colour to western classical music. When graduating from the Paris Conservatory he won the prestigious Prix de Rome, which financed two years of further study in the Italian capital, where he had the opportunity to meet
Franz Liszt
. He also made two trips to Wagner's Bayreuth.
Back in Paris he became a frequent participant at Stéphane Mallarmé's symbolist gatherings and formed friendships with many leading Parisian writers, musicians and artists.
At the Universal Exposition of 1889 he became fascinated by the music of eastern cultures, especially the Javanese gamelan, a discovery that made him want to get away from Wagner's influence. The year 1894 saw the sensational premiere of his
Prélude à l´après-midi d´un faune
, immediately launching Debussy into the spotlight as one of the leading composers of the era.
The opera
Pelléas et Mélisande
made a similar impact, and caused a lasting division among Paris audiences between the forward-looking believers in "Debussyism" and those who failed to appreciate his style.
Debussy cohabited in Paris with Gabrielle Dupont for nine years before marrying her friend Rosalie Texier, a fashion model, in 1899. Increasingly irritated by Texier's lack of intellectual and musical interest, Debussy left her for Emma Bardac, the wife of a Parisian banker and an accomplished singer. Texier, like Dupont before her, attempted suicide. The scandal obliged Debussy and Bardac (already carrying his child) to flee to England until the hysteria subsided. The couple were eventually married in 1908.
Debussy spent his remaining years immersed in French musical society, writing as a critic, composing, and performing as pianist and conductor.
The war depressed Debussy into a state of creative sterility, but the summer of 1915 marked the start of a new productive era: in quick succession he composed the Cello Sonata,
En blanc et noir
, the
Etudes
, and the
Sonata
for flute, viola and harp.
Unfortunately, at the end of the year he had to undergo a debilitating colostomy for rectal cancer, one of the very first such operations.
Many of his planned projects remained unrealized, but he managed to complete the Violin Sonata in 1917.
He died in Paris during the bombardment of Paris in the last German offensive of World War I.
Major works:
Orchestral: Prélude à l´après-midi d´un faune, La Mer, Three Nocturnes, Images, Fantasie for piano and orchestra.
Chamber music: String Quartet, Violin Sonata, Cello Sonata, Sonata for flute, viola and harp. Syrinx, for unaccompanied flute.
Vocal: Pelléas et Mélisande (opera), many songs with piano (including settings of Verlaine, Mallarmé, Francois Villon etc).
Piano solo: Préludes Book 1 & 2, Estampes, Images 1 & 2, Suite Bergamasque (incl. Clair de lune), 12 Études, two Arabesques, L'isle joyeuse, Children´s Corner.
Piano Sheet music by Claude Debussy to Download
| | | |
| --- | --- | --- |
| Download & Print | View in Mobile Device | For instant access to the printable sheet music of pices by Debussy and thousands of other classical piano pieces, sign up for a Piano Street Gold Membership! |
Total pieces by Debussy: 90
Posts in the piano forum about Debussy:

Re: Who is the best Debussy interpreter?

December 06, 2007, 09:34:41 AM by Nightscape


Michelangeli lacks spontaneity - sometimes it sparkles with brilliance but other times it sounds overly rehearsed. Michelangeli is best in certain pieces. I like Laurent-Aimard for the Etudes, and the newer recording of the complete works by Gordon Fergus-Thompson is really amazing too (especially if you like some of the more obscure piano pieces).

Many will recommend Walter Gieseking as well, and you may like him but personally his interpretations do not sit well with me. You also have to contend with terrible audio quality, which really ruins the mood for me - I would much rather hear Debussy played on the beautiful and sonorous tones of a piano and not a piece of sheet metal placed in an ajoining room with the door closed and static playing.



Re: debussy and the hammer quote

August 09, 2006, 10:35:13 PM by Tash


'one must forget that the piano has hammers' that's the quote it's in like every single debussy book on the planet except they don't reference it and that's the annoying thing that's getting me stuck!



Re: Debussy Info

July 02, 2006, 02:52:02 AM by cjp_piano


I love Debussy! So much that I did a research project in grad school titled "Harmony and Tonality in Debussy's Piano Music."

It addresses some of his influences (musicians - Bach, Rameau, Mozart, Chopin, Liszt, Wagner; impressionistic painters - Monet, Manet, Degas, Renoir, Pissaro; symbolist poets - Verlaine, Mallarme)

There are musical examples of his use of harmonic progressions, both traditional ( ii V I ) and non-traditional ( I iii bIII I ), the whole-tone scale and augmented chords, modes, polytonality, pentatonic scale, non-functional dominant seventh chords, etc.

I wanted to understand the ways Debussy was able to create certain sounds. It's interesting because Debussy himself said, "Let us maintain that the beauty of a work of art must always remain mysterious; that is to say, it is impossible to explain how it is created . . . let us not attempt to destroy or explain it" (from Debussy Letters).

Debussy's close friend Rene Peter said, "to judge by his works, and by their titles, he is a painter and that is what he wants to be; he calls his compositions pictures, sketches, prints, arabesques, masques, studies in black and white. Plainy it is his delight to paint in music" (from Images; The Piano Music of Claude Debussy).

Anyway, if you are interested, I can maybe email you my findings, but i have a whole host of musical examples, maybe I could scan them in or make a pdf or something.






The Grand Thread of Debussy Preludes

January 20, 2006, 12:36:49 PM by invictus


Ok, after using about 130 pages of paper printing book 1 and 2 of preludes by Debussy (did that in school , hehe), 24 preludes in total.
I was just wondering, can anyone sort them out in order of difficulty from easiest to hardest. ALL of them

Thanks
And any hints, techniques and so on for some individual preludes is also appreciated