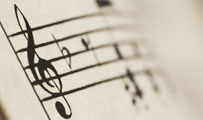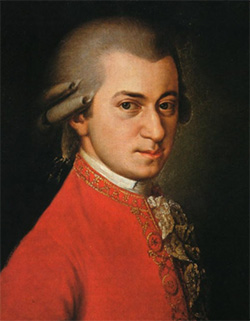 Mozart - Piano Music
Wolfgang Amadeus Mozart
's (1756-1791) father Leopold gave up his own composing to give little Wolfgang intensive musical training.
At age five, the boy had written his first compositions and could play the piano blindfolded. He made several European journeys along with his father and older sister Nannerl. Back in Salzburg the thirteen year old Mozart was appointed Concert Master at the Salzburg Court by the Archbishop. He made three tours of Italy, developing his interest in opera.
In Rome, after hearing Allegri´s Miserere in the Sistine Chapel, he went home to write it out in its entirety from memory. Another tour took Mozart to Mannheim, the town with Europe's best orchestra, where Mozart fell in love with Aloysia Weber. Their relationship ended when Leopold ordered his son to Paris, where he spent some unhappy months: his mother who had accompanied him there fell ill and died. Back in Salzburg, Mozart became increasingly rebellious, fell out of favour with the Archbishop and was dismissed, in his own words, "with a kick in the seat of the pants".
In 1781 he settled in Vienna. The following year, Wolfgang married Constanze Weber, Aloysias sister, against his father´s wishes. His Viennese career took off quickly: the opera
Die Entführung aus dem Serail
was a great success and he began a series of concerts at which he premiered his own
piano concertos
as conductor and soloist.
He developed a friendship with
Haydn
and became more closely acquainted with the music of
Bach
and
Handel
. Mozart became a Freemason in 1784, in the same lodge as Haydn, and worked fervently and successfully to convert his father before the latter´s death in 1787. Toward the end of the decade, Mozart´s career declined; he had to borrow money and move his family to cheaper lodgings in the suburbs.
His last year, however, was one of great productivity and personal recovery, and resulted in some of his most admired works: the opera
Die Zauberflöte
, the final piano concerto, the
Clarinet Concerto
, and the unfinished
Requiem
.
His financial situation also improved. Contrary to legend, it appears that he was in quite good cheer until he died of uncertain causes towards the end of the year. This event has given rise to endless speculation – but it's unlikely that he was poisoned and Salieri most probably had nothing to do with it. Mozart was buried in a communal, unmarked, grave according to the 1784 laws in Austria.
Major works:
Operas: Die Entführung aus dem Serail (The Abduction from the Seraglio), Le nozze di Figaro (Marriage of Figaro), Così fan tutte (All women Behave Alike), Die Zauberflöte (The Magic Flute)
Other vocal Music: Requiem Mass (unfinished, completed by Mozart´s pupil Süssmayer), other masses (incl. the Great Mass in c minor) Sacred arias (e.g. Exsultate, jubilate), choir settings (e.g. Ave Verum Corpus), concert arias and songs with piano accompaniment
Orchestral: 41 symphonies, 27 piano concertos, 5 violin concertos, 4 horn concertos, 2 flute concertos, Flute and Harp Concerto, Clarinet concerto, Bassoon concerto. Serenades and Divertimenti (incl. the string serenade Eine kleine Nachtmusik, and the Gran Partita for wind instruments and double bass), Sinfonia Concertante (solo violin and solo viola).
Chamber: 23 string quartets, 6 string quintets, Clarinet Quintet, 4 flute quartets, 6 piano trios, 2 piano quartets, Piano and Wind Quintet, Trio for clarinet, viola and piano ("Kegelstatt"), 36 violin sonatas.
Piano: 18 piano sonatas, a number of fantasies, rondos and variation works incl. the Variations on Ah, vous dirai-je, maman (Twinkle, twinkle little star) the c and d minor fantasies and the Rondo in D. Several works for two pianists, including six four-hand sonatas and the Sonata in D for two pianos.
Quotes:
Gioacchino Rossini
about Mozart: "He roused my admiration when I was young; he caused me to despair when I reached maturity; he is now the comfort of my old age."
Peter Ilyitch Tchaikovsky
: "Mozart is the highest, the culminating point that beauty has attained in the sphere of music."
Piano Sheet music by Wolfgang Amadeus Mozart to Download
| | | |
| --- | --- | --- |
| Download & Print | View in Mobile Device | For instant access to the printable sheet music of pices by Mozart and thousands of other classical piano pieces, sign up for a Piano Street Gold Membership! |
Total pieces by Mozart: 152