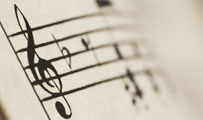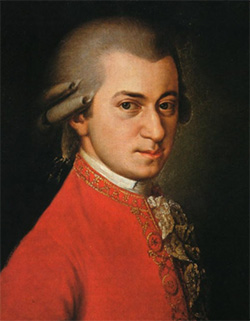 Mozart - Piano Music
Wolfgang Amadeus Mozart
's (1756-1791) father Leopold gave up his own composing to give little Wolfgang intensive musical training.
At age five, the boy had written his first compositions and could play the piano blindfolded. He made several European journeys along with his father and older sister Nannerl. Back in Salzburg the thirteen year old Mozart was appointed Concert Master at the Salzburg Court by the Archbishop. He made three tours of Italy, developing his interest in opera.
In Rome, after hearing Allegri´s Miserere in the Sistine Chapel, he went home to write it out in its entirety from memory. Another tour took Mozart to Mannheim, the town with Europe's best orchestra, where Mozart fell in love with Aloysia Weber. Their relationship ended when Leopold ordered his son to Paris, where he spent some unhappy months: his mother who had accompanied him there fell ill and died. Back in Salzburg, Mozart became increasingly rebellious, fell out of favour with the Archbishop and was dismissed, in his own words, "with a kick in the seat of the pants".
In 1781 he settled in Vienna. The following year, Wolfgang married Constanze Weber, Aloysias sister, against his father´s wishes. His Viennese career took off quickly: the opera
Die Entführung aus dem Serail
was a great success and he began a series of concerts at which he premiered his own
piano concertos
as conductor and soloist.
He developed a friendship with
Haydn
and became more closely acquainted with the music of
Bach
and
Handel
. Mozart became a Freemason in 1784, in the same lodge as Haydn, and worked fervently and successfully to convert his father before the latter´s death in 1787. Toward the end of the decade, Mozart´s career declined; he had to borrow money and move his family to cheaper lodgings in the suburbs.
His last year, however, was one of great productivity and personal recovery, and resulted in some of his most admired works: the opera
Die Zauberflöte
, the final piano concerto, the
Clarinet Concerto
, and the unfinished
Requiem
.
His financial situation also improved. Contrary to legend, it appears that he was in quite good cheer until he died of uncertain causes towards the end of the year. This event has given rise to endless speculation – but it's unlikely that he was poisoned and Salieri most probably had nothing to do with it. Mozart was buried in a communal, unmarked, grave according to the 1784 laws in Austria.
Major works:
Operas: Die Entführung aus dem Serail (The Abduction from the Seraglio), Le nozze di Figaro (Marriage of Figaro), Così fan tutte (All women Behave Alike), Die Zauberflöte (The Magic Flute)
Other vocal Music: Requiem Mass (unfinished, completed by Mozart´s pupil Süssmayer), other masses (incl. the Great Mass in c minor) Sacred arias (e.g. Exsultate, jubilate), choir settings (e.g. Ave Verum Corpus), concert arias and songs with piano accompaniment
Orchestral: 41 symphonies, 27 piano concertos, 5 violin concertos, 4 horn concertos, 2 flute concertos, Flute and Harp Concerto, Clarinet concerto, Bassoon concerto. Serenades and Divertimenti (incl. the string serenade Eine kleine Nachtmusik, and the Gran Partita for wind instruments and double bass), Sinfonia Concertante (solo violin and solo viola).
Chamber: 23 string quartets, 6 string quintets, Clarinet Quintet, 4 flute quartets, 6 piano trios, 2 piano quartets, Piano and Wind Quintet, Trio for clarinet, viola and piano ("Kegelstatt"), 36 violin sonatas.
Piano: 18 piano sonatas, a number of fantasies, rondos and variation works incl. the Variations on Ah, vous dirai-je, maman (Twinkle, twinkle little star) the c and d minor fantasies and the Rondo in D. Several works for two pianists, including six four-hand sonatas and the Sonata in D for two pianos.
Quotes:
Gioacchino Rossini
about Mozart: "He roused my admiration when I was young; he caused me to despair when I reached maturity; he is now the comfort of my old age."
Peter Ilyitch Tchaikovsky
: "Mozart is the highest, the culminating point that beauty has attained in the sphere of music."
Piano Sheet music by Wolfgang Amadéus Mozart to Download
| | | |
| --- | --- | --- |
| Download & Print | View in Mobile Device | For instant access to the printable sheet music of pices by Mozart and thousands of other classical piano pieces, sign up for a Piano Street Gold Membership! |
Total pieces by Mozart: 87
Posts in the piano forum about Mozart:

Is Mozart the ultimate test for a pianist?

December 13, 2008, 02:32:43 PM by cloches_de_geneve


It is reported that the famous Hungarian-Swiss pianist Geza Anda worked for over 5 years to develop a specific Mozart touch. Only then did he go on and made a recording of all the Mozart piano concertos. Anda, it should be noted, was an intimidating virtuoso pianist already as a late adolescent and could pull off anything.

In a recent masterclass I asked one of my colleagues why he chose to perform Liszt's first Mephisto Waltz and not the first movement of Haydn's last piano sonata in the final concert. He answered what Anda might have answered: "Oh, because the former is much easier than the latter."

I think that there is a grain of truth in this. Certain amateur pianists stick to the classics because they could never play advanced pieces by Liszt or Rachmaninov. However, this does not mean that the accomplished concert pianist, who can make it through Liszt's and Chopin's Etudes with little effort, is able to play Mozart well.

Mozart, it could be argued, is the ultimate test. Mozart requires light, mobile, highly reactive fingers. He requires exceptional talents of articulation and the ability to produce a highly nuanced range of sounds. There are no crutches, such as a thick texture to hide the single notes, distracting virtuoso figurations and the possibility to rely on pedal.

But how does one develop the skills to play Mozart well?



Re: Best Mozart's Piano Music Interpreter

October 11, 2006, 04:59:40 PM by thaicheow


I personally feel that Alicia de Larrocha's mozart is the best. She is very restrain, and full of command, but yet everything seems easy under her fingers. To play without showing any technique at all, I think is what Mozart asks from his performers.

Why no one mention Martha Argerich. I like some of her concertos greatly.

Also, no one mention Andras Schiff.

I will put Daniel barenboim's mozart at the last place. His temperement simply not suitable for Mozart. But I like his playing on other romantic composers, especially Beethovan.

Glenn Gould did some Mozart concerto VERY well in his early performance. But his complete recording on Mozart sonatas simply out of my list.

Richter also did some great Mozart performance, though he lamented that Mozart isnt easy to do.

How about those 'legendary' mozart performers? Like Lily Kraus, Myra Hess?


Re: Playing & Interpreting Mozart's piano music

September 08, 2006, 08:06:00 AM by pianistimo


Minimal pedalling - and yet 'flow like oil.' using legato finger techniques you can achieve a lot and not get 'mushy' sounds.

as with voice and violin - mozart maintains a lilting melody that has to be sung - so sometimes the melody is even more connected, imo, than the accompaniment at all times. but, even with accompaniment you can be tricky. my teacher suggested with some passages of alberti bass - to hold the start bass note over. this gives a pedalled effect, too.

the forte-piano - as you say - was a newly developed instrument. was lighter in dynamics. and although not as staccato sounding as the harpsichord (being plucked strings instead of hammered) - it was still a rather 'weak' sound. now, with modern piano capabilities - imo, we play mozart too loudly sometimes. personally i like the dynamic ranges of murray perahia. a little bit reigned in and not obnoxious.



How do I prepare for playing Mozart in the Italian Style

August 23, 2006, 08:26:41 PM by barnowl


In the first run of 16th notes in the first movement of K.545, , there's a footnote in .
W.A. MOZART—An Introduction to His Keyboard Works that reads:

To play sixteenth notes legato, as marked by many editors, is contradictory to the Italian style for Allegro movements. To cite only one of many sources, Giuseppe Tartini wrote of sixteenth-note passages in Allegro tempos: "Play the notes detached and separate, with a little space between each two—as if there were a rest after every note." (My bolding.)

So, should I play my scales as the footnote says I should play Mozart in order to prepare? I think I could still handle the legato of the other stuff I'm working on—a Chopin Prelude and a Beethoven Sonatina.

Any tips on playing Italian style will be welcomed.

For what it's worth, this book I referred to seems to be a wonderful introduction to Mozart. This 2006 edition even includes an audio CD with which you can hear all the pieces in the book, all of them easy (if you call his Somata in C Major easy).

The editor, Willard A. Palmer is a stickler for publishing (and playing) Mozart the way Wolfie would want his works done. I love that kind of respect.