Joseph Haydn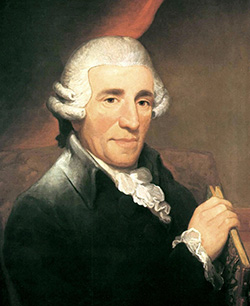 Joseph Haydn was 18 when Bach died, and 75 when Beethoven's Appassionata was published. Throughout this time he remained at the forefront of music - no other composer approaches his combined productivity, quality and historical importance in the field of symphonies, sonatas and string quartets. He had a great sense of humor, often apparent in his music, which besides its classical elegance exudes energy and is typically upbeat, though this does not exclude heartfelt emotion and seriousness.
Top Pieces:
Sonata in E-flat Major, L. 62 Hob. XVI: 52
Widely considered Haydn's greatest piano sonata - symphonic in scope, and with bold harmonic twists: Haydn as a visionary, but also in his most irrestibly witty and poetic mood.


Piano Concerto 11 in D Major
Although concertos did not play a large role in Haydn's output, this one is a favorite with pianists and audiences for its cheerful Vivace, melancholy Adagio, and rousing, exotic "Hungarian" Rondo.

Serenata in C Major
This famous Serenade may have been composed by Haydn's ardent admirer Roman Hoffstetter. If that is so, never did Hoffstetter's music come so close to the melodic charm and beautiful craftsmanship of his idol.

Biography
Franz Joseph Haydn (1732-1809) was of short stature and not a very handsome man, but his good character and modesty were generally acknowledged, and his robust sense of humour is often evident in his music. He has been known as the father of both the symphony and the string quartet; no other composer approaches his historical importance in these genres. As a boy of six he was sent to train as a musician with his relative Johann Matthias Franck, who let the boy go constantly hungry. Two years later, he passed an audition to become a chorister in St. Stephen´s Cathedral in Vienna; the under-nourished Haydn especially looked forward to performances before the aristocracy, where he would sometimes have the opportunity to devour some of the refreshments.
At seventeen, Haydn was no longer able to sing high choral parts and was dismissed. During an arduous period as freelance musician he laboured to fill the gaps in his training, and eventually wrote his first string quartets and his first opera. In 1757 he became Kapellmeister for Count Karl von Morzin, for whose small orchestra he wrote his first symphonies. When the Count got into financial trouble, Haydn was offered a similar post by the Eszterházys, one of the wealthiest and most important families in the Austrian Empire. Haydn married in 1760, but did not get along with his wife, and carried on a long-term love affair with the singer Luigia Polzelli. He produced a flood of compositions, for his employer as well as for publication, and his popularity steadily increased. When Mozart arrived in Vienna in 1781 the two composers developed a great friendship – they were members of the same Masonic lodge and sometimes played string quartets together.
In 1790, the new prince Eszterházy dismissed the musical establishment and put Haydn on a pension. The composer accepted an offer to visit England and conduct new symphonies with a large orchestra. Audiences flocked to these concerts and Haydn considered settling in England permanently, but eventually returned to Vienna, turning to the composition of large religious vocal works and composing the last nine of his string quartets. From 1802 Haydn suffered from health problems which made him physically unable to compose. He died in 1809 following an attack on Vienna by Napoleon; with his last words he attempted to calm and reassure his servants as cannon shots fell on the neighbourhood.
Quotes by Haydn
"Since God has given me a cheerful heart, He will forgive me for serving Him cheerfully."
Quotes about Haydn
"Haydn alone has the secret both of making me smile and of touching my innermost soul" (Mozart)
"If only your pure and clean mind could touch me, dear Haydn; nobody has a greater reverence for you than I have." (Schubert)
Haydn Piano Sheet Music
for digital devices or to download & print
Total pieces by Haydn: 80
ID:17
Forum posts about Joseph Haydn