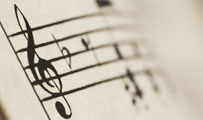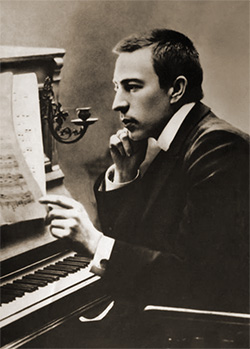 Rachmaninoff - Piano Music
Sergey Rachmaninoff
(1873-1943), one of the greatest pianists of all time, possessed an incredible technique marked by precision, clarity, a unique singing quality and a tremendous and overwhelming power.
Luckily, there are ample opportunities to study his style from the several recordings he made of both his own and other composers´ music.  His hands were famously large — he could, with his left hand, play the chord C-E flat-G-C-G.
Rachmaninoff studied at the Moscow Conservatory, receiving the gold medal in composition as well as the personal encouragement of
Tchaikovsky
.
In 1895 came his first serious setback: the dismal reception of his first symphony, very badly conducted by a drunk
Glazunov
. This disaster, coupled with Rachmaninoff's distress over the church´s objection to his marrying his cousin Natalia, contributed to a time of severe depression, lasting until a course of autosuggestive therapy with the psychologist Nikolai Dahl helped him recovered his confidence. The composition of the
second piano concerto
, dedicated to Dr. Dahl, marked the end of this dark period. The concerto had great success at its premiere and has remained one of Rachmaninoff's best loved works.
He was finally allowed to marry Natalia – a union that lasted until the composer´s death – and so the first decade of the twentieth century proved a productive and happy one for Rachmaninoff, resulting in such masterpieces as the second symphony, the tone poem
Isle of the Dead
, and the
third piano concerto
. By the end of the decade, Rachmaninoff made his first tremendously successful American tour.
He continued to make his home in Russia but left permanently following the Revolution in 1917; after this, his music was banned in the Soviet Union for several years. His compositional output slowed dramatically, partly because of extensive performing, but mainly because he felt a loss of inspiration when leaving Russia. As he became more and more aware of the fact that he would never again return, he was overwhelmed with melancholia.
Most people who knew him later in life described him as the saddest man they had ever known. Rachmaninoff, regarded the last great Russian romantic composer, died in Beverly Hills, California, shortly after becoming an American citizen.
Major works:
Orchestral: 3 symphonies, Isle of the Dead, The Rock, Symphonic Dances, 4 piano concertos, Rhapsody on a theme of Paganini
Chamber: Cello Sonata, 2 string quartets, 2 piano trios
Piano solo: Preludes op. 23 & 32, Études-Tableaux op. 33 & 39, Six Moments Musicaux, Variations on a Theme of Chopin, Variations on a Theme of Corelli, two piano sonatas, two suites for two pianos.
Quote:
Rachmaninoff about his contemporaries:
"The new kind of music seems to create not from the heart but from the head. Its composers think rather than feel. They have not the capacity to make their works exalt – they meditate, protest, analyze, reason, calculate and brood, but they do not exalt."
Piano Sheet music by Sergey Rachmaninoff to Download
| | | |
| --- | --- | --- |
| Download & Print | View in Mobile Device | For instant access to the printable sheet music of pices by Rachmaninoff and thousands of other classical piano pieces, sign up for a Piano Street Gold Membership! |
Total pieces by Rachmaninoff: 56