Rachmaninoff - Piano Music
Sergey Rachmaninoff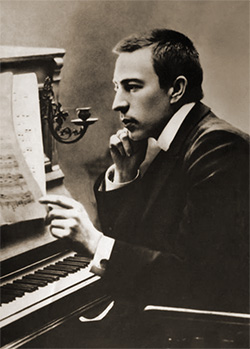 Rachmaninoff's qualities as a composer were deeply intertwined with his strengths as a pianist: an extremely powerful sound, a strong rhythmic drive, and a tremendous ability to make a melody sing while maintaining perfect clarity and definition in very complex supporting textures. His compositions come across as timeless lyric inspirations, flowing straight from a heart imbued with nostalgia and reaching for ecstasy.
Top Pieces:

Prelude in G Minor, Op. 23 No. 5
The most played of Rachmaninoff's op 23 Preludes is characterized by its relentless, triumphant marching rhythm and the melting lyricism of the middle section.

Prelude in G-sharp Minor, Op. 32 No. 12
Quieter in character than its C sharp and G minor counterparts, this prelude features a beautiful, elegiac melody in the left hand accompanied by a shimmering right-hand accompaniment.

Piano Concerto 2 in C Minor, Op. 18
From its bold start, with those iconic, still and heavy solo piano chords, the Second Piano Concerto grows into an epic, rapturous storm of emotion.

Piano Concerto 3 in D Minor, Op. 30
The Third Concerto places huge technical demands on the soloist, but also features a lot of subtle lyricism, intricate musical conversation, and glimmering orchestration.

Biography
Sergey Rachmaninoff (1873-1943), one of the greatest pianists of all time, possessed an incredible technique marked by precision, clarity, a unique singing quality and a tremendous and overwhelming power. Luckily, there are ample opportunities to study his style from the several recordings he made of both his own and other composers' music. His hands were famously large — he could, with his left hand, play the chord C-E flat-G-C-G. Rachmaninoff studied at the Moscow Conservatory, receiving the gold medal in composition as well as the personal encouragement of Tchaikovsky. In 1895 came his first serious setback: the dismal reception of his first symphony, very badly conducted by a drunk Glazunov. This disaster, coupled with Rachmaninoff's distress over the church´s objection to his marrying his cousin Natalia, contributed to a time of severe depression, lasting until a course of autosuggestive therapy with the psychologist Nikolai Dahl helped him recovered his confidence.
The composition of the second piano concerto, dedicated to Dr. Dahl, marked the end of this dark period. The concerto had great success at its premiere and has remained one of Rachmaninoff's best loved works. He was finally allowed to marry Natalia – a union that lasted until the composer´s death – and so the first decade of the twentieth century proved a productive and happy one for Rachmaninoff, resulting in such masterpieces as the second symphony, the tone poem Isle of the Dead, and the third piano concerto.
In 1909, Rachmaninoff made his first tremendously successful American tour. He continued to make his home in Russia but left permanently following the Revolution in 1917; after this, his music was banned in the Soviet Union for several years. His compositional output slowed dramatically, partly because of extensive performing, but mainly because he felt a loss of inspiration when leaving Russia. As he became more and more aware of the fact that he would never again return, he was overwhelmed with melancholia. Most people who knew him later in life described him as the saddest man they had ever known. Rachmaninoff, regarded the last great Russian romantic composer, died in Beverly Hills, California, shortly after becoming an American citizen.
Quotes by Rachmaninoff
"What is Music? How do you define it? Music is a calm moonlit night, the rustle of leaves in Summer. Music is the far off peal of bells at dusk! Music comes straight from the heart and talks only to the heart: it is Love! Music is the Sister of Poetry and her Mother is sorrow!"
"The new kind of music seems to create not from the heart but from the head. Its composers think rather than feel. They have not the capacity to make their works exalt – they meditate, protest, analyze, reason, calculate and brood, but they do not exalt."
"Do not waste your time with music that is trite or ignoble. Life is too short to spend it wandering in the barren Saharas of musical trash."
Quotes about Rachmaninoff
"He had the secret of the golden, living tone which comes from the heart ... I was always under the spell of his glorious and inimitable tone which could make me forget my uneasiness about his too rapidly fleeting fingers and his exaggerated rubatos. There was always the irresistible sensuous charm, not unlike Kreisler's." (Arthur Rubinstein)
"He was the perfect pianist, sans pareil, sans raproche. He was absolutely perfect, flawless, an aristocrat with a high sense of drama and an extraordinary sense of poetry. And he could convey this extraordinary charisma with so little effort. But this golden sound came out of those perfectly programmed fingers. I don't think I ever heard him make a mistake." (Harold Schonberg)
"He was a six and a half foot scowl." (Stravinsky)
Rachmaninoff Piano Sheet Music
for digital devices or to download & print
Total pieces by Rachmaninoff: 56
ID:26
Forum posts about Sergey Rachmaninoff