Maurice Ravel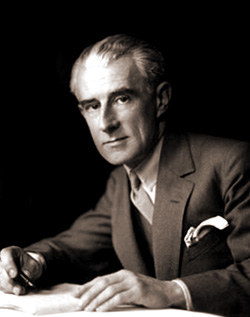 Often labelled an impressionist, Maurice Ravel's style grew out of his great interest in a broad variety of styles, including Spanish folk music, French baroque, and American jazz. At the same time he considered himself in many ways a classicist. An outwardly elegant person, always immaculately dressed, his art seems to strike a perfect balance between pure intellect and emotion. The exquisite craftsmanship of his scores is always matched by a great commitment to melody and a fascinating depth of passion.
Top Pieces:
Pavane pour une infante défunte
The title "Pavane for a Dead Princess" may seem exceedingly gloomy, but Ravel clarified that rather than a funeral lament, this is "an evocation of a pavane that a little princess might, in former times, have danced at the Spanish court".

Jeux d'eau
Ravel, inspired by the musical sounds of fountains, waterfalls and streams, headed the score to Jeux d'Eau with a line from a poem by Henri de Régnier: "The River God laughing at the waters that tickle him"

Sonatine
The Sonatine features many of Ravel's stylistic trademarks in an exquisitely handled classical form, where a few short motives makes myriad appearances and are transformed throughout all three movements.

Scarbo
Inspired by the dark poetry of Aloysius Bertrand, Gaspard de la Nuit is a triptych evoking images of horror. The third and most famous piece depicts an evil goblin who appears in the dead of night and plays with your mind.

Alborada del Gracioso
Translating roughly as Morning Song of the Jester, this piece combines the flavour of Andalusian folk music with pianistic acrobatics such as double glissandi and extremely fast repeated notes.

Biography
Although Maurice Ravel (1875-1937) has often been compared to Claude Debussy, its fair to say that Ravel was more of a classicist than his great contemporary, being more influenced by the concertos of Mozart and Saint-Saëns than by Wagner, whose music he disliked. He was also drawn to jazz and music from Spain and Russia. A fastidious worker, he honed his works to perfection, leading Stravinsky to talk about "Ravel the Swiss Watchmaker". Originally from the Basque town of Ciboure, near Biarritz, he entered the Paris Conservatory in 1889; among his teachers were Gabriel Fauré. He remained at the Conservatory for not less than 16 years. During his last years there, Ravel tried in vain to win the prestigious Prix de Rome for composition, and was eventually forbidden to try it once more. A minor scandal followed, which eventually lead to the resignation of the director and Ravel leaving the conservatory.
During the first World War, Ravel was denied active army service because of his age and frail health, but he nevertheless served his country as an ambulance driver. In 1920, the French government awarded him with the Legion d´honneur, which he declined. In 1928 he met with great acclaim during a piano tour of the USA, where he also made friends with George Gershwin. In 1932 Ravel suffered a car accident from which he never fully recovered. He began to experience aphasia-like symptoms and his output dropped dramatically. Medical experts examining Ravel´s clinical history have speculated that at the time of the accident he was already in the early stages of frontotemporal dementia. It has also been argued that effects of this neurological disease can be traced in works like Boléro and the piano concerto for the left hand. In 1937, Ravel agreed to undergo experimental surgery on his brain, but the operation was unsuccessful and he died shortly afterwards.
Ravel was a superb orchestrator, who spent much of his time orchestrating piano works by himself and others, notably Debussy and Mussorgsky (Pictures of an Exhibition). He worked with the famous choreographer Sergei Diaghilev in stage productions of his ballets Ma Mère l´Oye and Daphnis et Chloé.
Quotes by Ravel
"We should always remember that sensitiveness and emotion constitute the real content of a work of art.
"Whatever sauce you put around the melody is a matter of taste. What is important is the melodic line. (Ravel to Vaghan Williams)
Quotes about Ravel
''The most perfect of Swiss clockmakers'' (Stravinsky)
Ravel Piano Sheet Music
for digital devices or to download & print
Total pieces by Ravel: 24
ID:27
Forum posts about Maurice Ravel