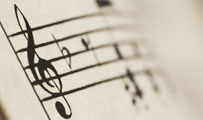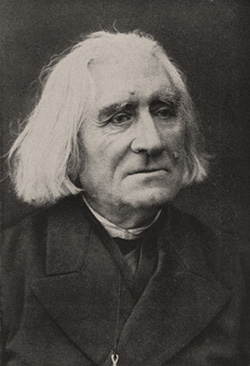 Liszt - Piano Music
Franz Liszt
(1811-1886), the greatest piano virtuoso of his time, was also highly influential in shaping the western musical canon.
His championship of new composers like Wagner and Berlioz helped them to fame; equally important was his promoting past masters including
Bach
,
Handel
,
Schubert
and
Beethoven
.
In his compositions he developed piano technique beyond recognition, made radical experiments in harmony and invented the symphonic poem. Born in Hungary, he went as a boy to Vienna, where he studied with
Czerny
and Salieri and met Beethoven and Schubert.
Still in his teens he settled in Paris where he soon became a prominent figure in society, first and foremost because of his wizardry at the piano, but also because of his various romantic entanglements, which provided much material for gossip.
Liszt became acquainted with a number of musical contemporaries at this time, including Berlioz,
Chopin
,
Alkan
and others.
One of the most important events of these early years was his witnessing of the concerts of the diabolical violinist Niccoló Paganini.
Towards the end of 1832 Liszt was introduced to Countess Marie d'Agoult, who was to become his lover; as she was already married, the couple eloped to Switzerland to escape scandal. The relationship went on for 12 years and resulted in three children – Liszt's daughter Cosima would go on to marry Richard Wagner.
During the years 1839 to 1847 Liszt unfolded a virtuoso career unmatched in the history of performance. He was the first to play entire programmes from memory; the first to play the full range of the keyboard repertory (as it then existed) from Bach to Chopin; the first consistently to place the piano at right-angles to the stage, so that its open lid reflected the sound across the auditorium; and the first to tour Europe from the Pyrenees to the Urals.
However, at 35 years of age he abandoned the concert stage, persuaded by his new lover Carolyne zu Sayn-Wittgenstein to concentrate on composition. Liszt settled in Weimar and went on to compose some of his most important masterpieces, include the
Faust Symphony
, the
Symphonic Poems
, and the two piano concerti.
In the so called War of the Romantics, he supported his son-in-law Wagner and the futuristic school of Weimar against the more conservative Leipzig school, most famously represented by
Johannes Brahms
,
Felix Mendelssohn
and
Robert Schumann
.
Around 1860, Liszt settled more or less permanently in Rome, where he took minor orders and became Abbé Liszt. Here his output consisted mainly of religious music.
In his last years he abandoned the virtuoso style in favour of a bleak and introspective approach, pointing forward into atonality.
Major works:
Orchestral: Symphonic poems (incl. Ce qu´on entend sur la montagne, Les preludes, and Prometheus), Faust and Dante Symphonies, Mephisto Waltzes 1 & 2, two piano concertos and other works for piano and orchestra, incl. Totentanz and Fantasy on Hungarian Folk-Melodies
Piano: Sonata, Années de pèlerinage Books 1-3, Harmonies poétiques et religieuses, Légendes,
6 Grandes Études de Paganini (incl. La Campanella), 12 Transcendental Studies, Hungarian Rhapsodies, Mephisto Waltzes 3 & 4
Operatic transcriptions and fantasies, incl. Reminiscences de Don Juan (based on Mozart´s Don Giovanni) and a vast number of other pieces, incl. transcriptions of his own and other people's orchestral and choral compositions (incl. the Beethoven Symphonies for piano four hands)
Quote:
Heinrich Heine about Liszt: "When he sits at the piano and having repeatedly pushed his hair back over his brow, begins to improvise, then he often rages all too madly upon the ivory keys and lets loose a deluge of heaven-storming ideas, with here and there a few sweet flowers to shed fragrance upon the whole. One feels both blessedness and anxiety, but rather more anxiety."
Piano Sheet music by Franz Liszt to Download
| | | |
| --- | --- | --- |
| Download & Print | View in Mobile Device | For instant access to the printable sheet music of pices by Liszt and thousands of other classical piano pieces, sign up for a Piano Street Gold Membership! |
Total pieces by Liszt: 380