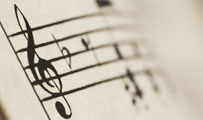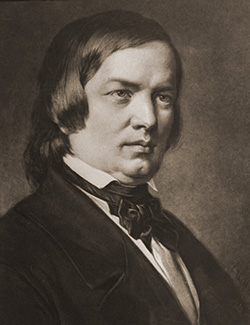 Schumann - Piano Music
Robert Schumann
(1810-1856) was a central figure of the Romantic era; his life, ideas and works illustrate the idea of Romanticism better than those of almost any other composer, writer or artist.
As a young man he enrolled at the University of Leipzig to study law, but evidently devoted much more time to drinking, socialising, pursuing philosophical discussions and playing music. He studied piano with a respected teacher, Friedrich Wieck, whose highly talented daughter
Clara
was eventually to fall in love with Robert – to her father´s deep dismay.
Schumann allegedly led a life of dissipation which also aggravated his manic-depressive tendencies. His compulsive use of a finger-strengthening device led to a paralysis of the right hand, making his intended pianist career impossible.
Schumann turned to composing and writing about music. He was one of the founders of the influential Neue Zeitschrift für Musik and though this medium both put words to and greatly influenced the trends in music - one of the most famous early examples was his article in praise of
Chopin
. In both writings and compositions, Robert gave himself a dual personality: "Florestan" for his impetuous self and "Eusebius" for his contemplative side. Especially in his early composing career, Schumann produced a flood of short, poetic piano pieces, often inspired by his love for Clara Wieck. After years of opposition from her father, the couple finally gained the legal right to marry in 1840. This event started a period of intense creativity in all sorts of genres. First came an outpouring of songs and song-cycles; then, in 1841, Schumann concentrated on symphonies, in 1842 on chamber music, and in 1843 on choral works. After this he had a severe attack of depression and moved to Dresden in search of quiet. Seven years later he became town music director in Düsseldorf . He met with the 20-year-old
Brahms
in 1853, acclaiming him in an article titled "New Paths". The next year his mental health failed and he threw himself into Rhine but was rescued. After this incident he agreed to enter an asylum, where his condition gradually deteriorated until his death three years later.
Major works:
Orchestral: 4 symphonies, Piano Concerto, Cello Concerto, Violin Concerto
Vocal: Songs and song cycles, e.g. Liederkreis (Heine), Liederkreis (Eichendorff), Dichterliebe, Frauenliebe und -leben
Chamber: Piano Quintet, 2 Piano Quartets, 3 Piano Trios, 3 Violin Sonatas
Piano: Papillons, Carnaval, Kinderszenen, Kreisleriana
Quote:
Schumann about Chopin: "Hats off, gentlemen, a genius!"
Piano Sheet music by Robert Schumann to Download
| | | |
| --- | --- | --- |
| Download & Print | View in Mobile Device | For instant access to the printable sheet music of pices by Schumann and thousands of other classical piano pieces, sign up for a Piano Street Gold Membership! |
Total pieces by Schumann: 179
Posts in the piano forum about Schumann:

Re: about schumann

October 10, 2007, 02:13:58 PM by schubertiad


He's my favourite romantic composer. His early output for piano was just ridiculous: op.1 Abegg variations (maybe the greatest opening opus of any composer) op.2 papillons, op.6 Davidsbundlertaenze, op.7 Toccata, op.9 Carnaval, op.11 1st sonata, op.12 fantasiestücke, op.13 symphonic etudes, op.14 3rd sonata, op.15 Kinderszenen, op.16 kreisleriana, op.17 fantasy, op.18 arabeske. Then there are the songs, the symphonies, the piano concerto, all brilliant and unique.
His later stuff is much patchier, but some of it is still excellent. Even his late violin concerto, which people love to criticize, is a great work.
In short, i think he's the bee's knees.



Re: Starting playing Schumann

June 29, 2007, 02:09:47 AM by prongated


Try the Romances op. 28 or the Blumenstucke op. 19, then perhaps the Faschingsschwank aus Wien or something from the Phantasiestucke op. 12 like "Aufschwung". Finally, Papillons op. 1 (?) is a good introduction to how Schumann structured "mini" character pieces into a single work. Carnaval also featured some themes from this work.

I personally wouldn't start off Carnaval without having learned other works by Schumann - the interpretive possibilities are extremely enormous in this work. A successful performance of Carnaval, IMO, has to make sense both as individual pieces and a whole work. For this, I think you need to have developed a certain way of approaching Schumann.



Paraphrasing a random Schumann quote -

May 22, 2007, 01:59:01 AM by opus10no2


'The eyes should hear and the ears should see'

Meaning, when a learned musician sees a score, he hears the music from his inner ear. Also when he imagines music in his head, he should readily be able to imagine the image of the score.

This ability, along with a couple other things(obviously co-ordination..), most notably- great *flexible* experience with many pianistic figurations, is the key to great sightreading.
Also it's the key to starting as a composer too.

I personally think the printed score is a wonderful invention, and for all it's restrictions, it allows for a kind of mapping out, a canvas of sound, and even the greatest of ears are aided by the eyes of a musical architect.



Schumann-what it takes

June 16, 2006, 06:32:03 PM by verywellmister


I have never done German music like Schumann before and I may learn one of his pieces in the near future, but what makes his music difficult?
I have heard some people use heavy rubato or tempo changes throughout his pieces and some who don't. This really puzzles me. Could someone give me an example of a schumann interpreter? Thanks.