Sergey Prokofiev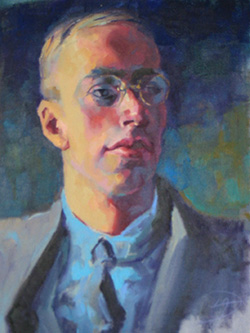 Sergei Prokofiev is one of the most distinctive and original musical voices from the first half of the 20th century. He uses musical devices from the Classical and Romantic eras in new ways that seems both completely logical and completely unpredictable. While still employing a tonal system, he has a way of jumping in and out of keys before you even know it. His style is recognised by an incredibly persistent rhythmic energy, humor, satire, and wonderful melodies.
Top Pieces:
Piano Concerto 3  in C Major, Op. 26
The most performed of the five piano concertos is Prokofiev at his robust finest. The wry wit with which he permeated his most important works is evident in spades.

Toccata in D Minor, Op. 11
The relentless, almost manic energy of this piece, and its somewhat sinister and violent character contributed substantially to the young Prokofiev's reputation as music's 'enfant terrible'.

Sonata 3 in A Minor, Op. 28
Within a classical sonata form, Prokofiev's shortest sonata is full of youthful energy and features a lot of pianistic pyrotechnics, but also beautifully lyrical passages.


Biography
Like many Russian artists, Sergey Prokofiev (1891-1953) left his country after the October Revolution; but he was the only important composer to return. Prokofiev displayed not only unusual musical abilities at an early age, but by the age of seven had also learned to play chess, a game that would remain a passion his entire life. There are several innovative pieces among his early works. One piano composition was written in F major, but without the customary B-flat – the young Prokofiev did not like to touch the black notes. At thirteen, Prokofiev felt that the isolation in the small town Sontsovka was restricting him, and he left for St. Petersburg, where he studied under Rimsky-Korsakov. He was viewed as eccentric and arrogant, found education boring, and frequently caused scandals with his forward-looking works.
In the summer of 1917 Prokofiev composed his first symphony, which he himself nick-named the Classical, since the work tried to capture how classical composers like Haydn would compose if they were still alive. Soon after this he headed for the USA, starting out successfully with a solo concert in New York, and receiving a contract for the production of his new opera The Love for Three Oranges. However, due to the illness and death of the conductor, the premiere was cancelled. Prokofiev found himself in financial difficulties and left for Paris, where little by little things started looking up; he had some exciting commissions from Diaghilev, made a number of concert tours in Russia, and enjoyed a very successful staging of The Love for Three Oranges in Leningrad.
In 1934, Prokofiev moved back to Russia permanently. At age fifty, Prokofiev suffered the first of several heart attacks, resulting in a gradual decline in health. During the war he was periodically evacuated south together with other artists. His relationship with the 25-year-old Mira Mendelson finally led to his separation from his wife Lina. In 1944, Prokofiev had great success with his Fifth Symphony. He had time to write a sixth before the Party suddenly changed its opinion about his music, declaring it generally dangerous to the Soviet people. His last performance was the premiere of the Seventh Symphony in 1952, for which he was asked to substitute a cheerful ending. He died on the same day as Joseph Stalin, 5 March 1953.
Quotes by Prokofiev
"In my view, the composer, just as the poet, the sculptor or the painter, is in duty bound to serve Man, the people. He must beautify human life and defend it. He must be a citizen first and foremost, so that his art might consciously extol human life and lead man to a radiant future. Such is the immutable code of art as I see it."
"My mother had to explain that one couldn´t compose a Liszt rhapsody because it was a piece of music that Liszt himself had composed. Also, one could not write music on nine lines without bars, because music was, in fact, written on five lines with bars. All of this prompted Mother to give me a more systematic explanation of the principles of musical notation." (Prokofiev about his first composition, a "Liszt Rhapsody" written at age five)
Quotes about Prokofiev
What struck me about Prokofiev's playing was its remarkable simplicity. Not a single superfluous gesture, not a single exaggerated expression of emotion, no striving for effect. The composer seemed to be saying, "I refuse to embellish my music in any way. Here it is. You may take it or leave it." There was a sort of inner purity of purpose behind the whole performance that made an unforgettable impression. He played his Toccata with great inner force (while outwardly appearing perfectly calm and unmoved).... The tempestuous, defiant Prokofiev at [lyrical] moments became as touching as a child. (David Oistrakh)
We encountered a pianist who played not only with the incredible will and rhythmic energy, but also with warmth, poetical finesse, and the ability to carry a melodic line flexibly and gently.... Those who think, according to an obscure tradition, that Prokofiev played in an angular, dry way, with incessant accents thrown around here and there, are mistaken. No! His playing was poetic, childishly innocent, astonishingly pure and modest. (Yakov Milshtein)
Prokofiev Piano Sheet Music
for digital devices or to download & print
Total pieces by Prokofiev: 63
ID:25