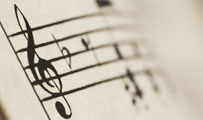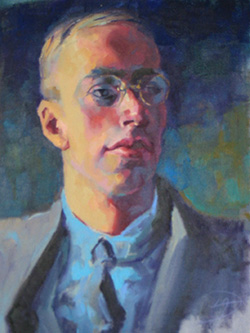 Prokofiev - Piano Music
Like many Russian artists,
Sergey Prokofiev
(1891-1953) left his country after the October Revolution; but he was the only important composer to return.
Prokofiev displayed not only unusual musical abilities at an early age, but by the age of seven had also learned to play chess, a game that would remain a passion his entire life. There are several innovative pieces among his early works. One piano composition was written in F major, but without the customary B-flat – the young Prokofiev did not like to touch the black notes.
At thirteen, Prokofiev felt that the isolation in the small town Sontsovka was restricting him, and he left for St. Petersburg, where he studied under
Rimsky-Korsakov
. He was viewed as eccentric and arrogant, found education boring, and frequently caused scandals with his forward-looking works.
In the summer of 1917 Prokofiev composed his first symphony, which he himself nick-named the Classical, since the work tried to capture how classical composers like
Haydn
would compose if they were still alive. Soon after this he headed for the USA, starting out successfully with a solo concert in New York, and receiving a contract for the production of his new opera
The Love for Three Oranges
. However, due to the illness and death of the conductor, the premiere was cancelled. Prokofiev found himself in financial difficulties and left for Paris, where little by little things started looking up; he had some exciting commissions from Diaghilev, made a number of concert tours in Russia, and enjoyed a very successful staging of
The Love for Three Oranges
in Leningrad.
In 1934, Prokofiev moved back to Russia permanently. At age fifty, Prokofiev suffered the first of several heart attacks, resulting in a gradual decline in health. During the war he was periodically evacuated south together with other artists. His relationship with the 25-year-old Mira Mendelson finally led to his separation from his wife Lina.
In 1944, Prokofiev had great success with his Fifth Symphony. He had time to write a sixth before the Party suddenly changed its opinion about his music, declaring it generally dangerous to the Soviet people.
His last performance was the premiere of the
Seventh Symphony
in 1952, for which he was asked to substitute a cheerful ending.
He died on the same day as Joseph Stalin, 5 March 1953.
Major works:
Stage and film: The Love for Three Oranges, The Fiery Angel, War and Peace (operas). Romeo and Juliet, Cinderella (ballets). Alexander Nevsky, Ivan the Terrible, Lieutenant Kijé (film scores).
Orchestral: 7 symphonies, 5 piano concertos, 2 violin concertos, cello concerto, cello concertino (unfinished), Peter and the Wolf for narrator and orchestra
Chamber: 2 sonatas for violin and piano (the 2nd originally for flute and piano), Cello Sonata, Five Melodies for violin and piano.
Piano: 9 sonatas, Toccata, Sarcasms, Visions Fugitives, piano versions of music from Romeo and Julia and Cinderella
Quotes:
Prokofiev about his first composition, a "
Liszt Rhapsody
" written at age five:
"My mother had to explain that one couldn´t compose a Liszt rhapsody because it was a piece of music that
Liszt
himself had composed. Also, one could not write music on nine lines without bars, because music was, in fact, written on five lines with bars. All of this prompted Mother to give me a more systematic explanation of the principles of musical notation."
Piano Sheet music by Sergey Prokofiev to Download
| | | |
| --- | --- | --- |
| Download & Print | View in Mobile Device | For instant access to the printable sheet music of pices by Prokofiev and thousands of other classical piano pieces, sign up for a Piano Street Gold Membership! |
Total pieces by Prokofiev: 63