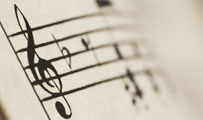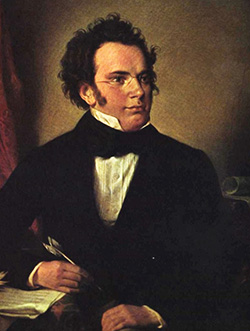 Schubert - Piano Music
From the start,
Franz Schubert
(1797-1828) was an exceptionally prolific composer. At seventeen years of age, having already written several songs, piano pieces, string quartets, his first symphony and a three-act opera, he increased his creative pace even further: the huge output of 1814-15 includes 144 songs, among them
Gretchen am Spinnrade
and
Erlkönig
, two more symphonies, three masses and four stage works.
From this time he began to attract a large circle of friends, frequently gathering in homes or coffee-houses for evenings of Schubert´s music called Schubertiads: this gave Schubert an appreciative audience and influential contacts as well as the confidence to stop teaching, which he had been pressured to do by his father who was a schoolmaster.
He lived with one or other of his friends, the closest of whom were the poet Johann Mayrhofer and the law student Franz von Schober. Schubert also met at this time the barytone Michael Vogl, one of the outstanding opera singers of the day, who became the foremost interpreter of his songs, often accompanied by the composer. In 1821 Schubert's music appeared in print for the first time, as his admirers issued issued 20 of his songs by private subscription. Schubert, an enthusiastic opera-goer since childhood, in the early 1820s worked on several stage projects such as the opera Alfonso und Estrella and incidental music to the play Rosamunde. The rejection of most of these works, financial strain and the beginning of serious health problems made this a dark period, which nevertheless yielded some of Schubert's best works, such as the epic "
Wanderer
" Fantasy for piano, the two movement Eighth Symphony ("Unfinished"), and the exquisite Schöne Müllerin song cycle. Although appreciation remained limited, his reputation in Vienna was steadily growing (above all, his concerts with Vogl were renowned), and Schubert little by little entered a more assured phase. 1825 was something of a high point when the setbacks of previous years were compensated by relative prosperity and happiness. Unfortunately, over the next three years his fortune, his finances and his health would wane steadily, yet during this time he would produce an astonishing string of masterworks. In 1827 Schubert wrote among other works the song cycle
Winterreise
, the Fantasia for piano and violin in C, the
Impromptus for piano
, and the two piano trios; in 1828 the
String Quintet in C
, the last three piano sonatas, and the collection of songs published posthumously as
Schwanengesang
.
Major works:
Orchestral: 9 symphonies incl. no 8 "Unfinished" and no 9 "Great", several overtures incl. two "In the Italian Style"
Vocal: Operas incl. Rosamunde, Fierabras and Alfonso and Estrella, sacred compositions incl. Deutsche Messe. At least 600 songs with piano accompaniment, incl. Gretchen am Spinnrade, Erlkönig, Die Forelle and the song cycles Die Schöne Müllerin, Winterreise and Schwanengesang.
Chamber: 15 string quartets, String Quintet, Piano Quintet "Trout", Octet in F, Arpeggione Sonata, Fantasia for piano and violin, 2 piano trios
Piano: About 20 sonatas, Wanderer Fantasia, Moment Musicaux, Impromptus op 90 & op. 142, Drei Klavierstücke, many shorter pieces: ländler, walzes etc. A large number of pieces for piano duet, incl. Fantasy in f minor, Grand Duo in C, 3 Marches Militaires
Quote:
"When I wished to sing of love, it turned to sorrow. And when I wished to sing of sorrow, it was transformed for me into love."
Piano Sheet music by Franz Schubert to Download
| | | |
| --- | --- | --- |
| Download & Print | View in Mobile Device | For instant access to the printable sheet music of pices by Schubert and thousands of other classical piano pieces, sign up for a Piano Street Gold Membership! |
Total pieces by Schubert: 110