Classical Piano Sheet Music to Download and Print

or to View in Your
Mobile Device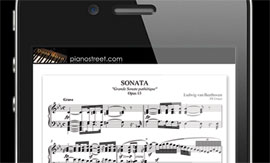 ---
Sign-up now
For instant access to the printable sheet music of
Concerto Transcriptions by Bach
and thousands of other classical piano pieces,
sign up
for a Piano Street Gold Membership!
Johann Sebastian Bach: Concerto Transcriptions
Bach's transcriptions for harpsichord of a number of Italian and other concertos date from his years in Weimar, probably 1713-1714. Most of these transcriptions were based on concertos by Antonio Vivaldi, but there are also works by Alessandro Marcello, Benedetto Marcello, Georg Philipp Telemann, and the musically talented Prince Johann Ernst of Saxe-Weimar. In July 1713, Prince Johann Ernst returned to Weimar after studying in Utrecht for 2 years. A keen amateur violinist, he is likely to have brought back concerto scores from Amsterdam, probably including the collection L'estro armonico, Op.3 of Vivaldi, published there in 1711. Bach's transcriptions of these works could have served an educational purpose for the young prince as well as giving him pleasure, but were probably also important for Bach's own development as a composer. His biographer Forkel wrote: "Vivaldi's violin concertos, which had just been published, gave him the guidance he needed. He had often heard them praised for their artistic excellence and decided upon the happy idea of arranging them all for the clavier. He was thus led to study their structure, the musical ideas on which they are built, the pattern of their modulations, and many other characteristics." Moreover, the publication of these works in the 19th century led to a Vivaldi revival lasting into our own time.
Sheet Music Downloads: