Classical Piano Sheet Music to Download and Print

or to View in Your
Mobile Device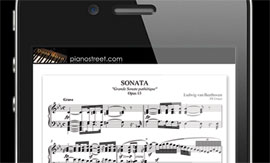 ---
Sign-up now
For instant access to the printable sheet music of
Four Pieces by Brahms
and thousands of other classical piano pieces,
sign up
for a Piano Street Gold Membership!
Johannes Brahms: Four Pieces
Brahms was not fond of giving his works descriptive titles, and often simply used the matter-of fact "Klavierstücke." (Piano pieces). Another noncommittal term often resorted to was Intermezzo, which is the case with the first three pieces in this collection, quite different in structure and character.
The first piece is one of the most harmonically rich and ambiguous of Brahms's works – the mysterious first chord is a B-minor triad "embedded in a chord that looks, but cannot be said to function, like an E-minor ninth" (Walter Frisch).
The fourth and final piece of the set, a Rhapsody in E-flat major, but with a firm close on E-flat minor, is the longest of Brahms´s late piano works.
Sheet Music Downloads:
Posts in the piano forum about Four Pieces by Brahms:

116, 117, 118, or 119?

January 03, 2009, 09:47:29 PM by cloches_de_geneve


I'd like to learn one of these late Brahms cycles, perhaps also to put them on concert programs later on. Anyone who has learned them all, or some or having experience performing them? Feedback most welcome!




Brahms - Vier klavierstücke op 119

February 13, 2008, 07:05:09 PM by fnork


from a lunchtime recital I did with a violinist recently. We played Grazyna Bacewicz's fourth violin sonata and a berceuse by Fauré and I ended with op 119. The piano was pretty awful though - very hard to control in dynamics under mf, and none of that soft sound that you want for these pieces...worked much better for the Bacewicz sonata - a work with lots of drama and FF's...oh well. Now that I've learned this opus, it's time to start with the Handel variations! What incredible music...