Classical Piano Sheet Music to Download and Print

or to View in Your
Mobile Device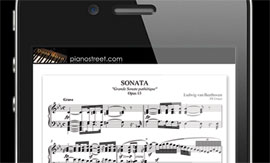 ---
Sign-up now
For instant access to the printable sheet music of
Hungarian Dances (solo piano) by Brahms
and thousands of other classical piano pieces,
sign up
for a Piano Street Gold Membership!
Johannes Brahms: Hungarian Dances (solo piano)
In 1850, Brahms met the Hungarian violinist Remenyi, who introduced him to the music of the Hungarian gypsies. This proved a most fruitful introduction, the most popular result of which were the Hungarian Dances, composed originally for piano duet.
The works were to win immediate popularity. Brahms himself arranged the first ten dances for solo piano and orchestrated Nos. 1, 3 and 10  – Dvo?ák, to whom Brahms had given early encouragement, orchestrated the last five.
The dances make use of gypsy melodies, although there are three completely original compositions by Brahms, Nos. 11, 14 and 16.
It seems that Wagner had the Hungarian Dances partly in his mind when he wrote with his usual acerbity "I know famous composers that you can meet at concert masquerades, one day in the guise of a ballad singer, the next in Handel´s Hallelujah wig, another time as a Jewish csardas player, and then again as genuine symphonists dressed up as number ten".
Sheet Music Downloads:
Posts in the piano forum about Hungarian Dances (solo piano) by Brahms:

Brahms Introductory

July 29, 2008, 04:08:01 AM by akonow


My teacher suggested that I start a Brahms piece and I was looking at the waltzes and some Hungarian dances. I want a piece that kind of captures the spirit of Brahms but also challenges my musical and technical skills. Do you guys have any suggestions? Thank you.



Brahms Hungarian Dances

June 09, 2008, 06:42:29 AM by akonow


What is the technically least demanding hungarian dance in your opinion? Are they all really 8+ ABRSM? I know they're really hard and I just want to check if I could approach one of them over the next few months. Just to give you an idea of what level I am: right now I'm playing some of the harder Chopin preludes and etude op. 10 no. 3, Schubert's Impromptu op. 142 no. 3, Rachmaninoff's Prelude op. 3 no. 2, Scarlatti's K141 Sonata, and Beethoven's The Tempest (mvt 1). Any help would be appreciated greatly.

Thanks.