Classical Piano Sheet Music to Download and Print

or to View in Your
Mobile Device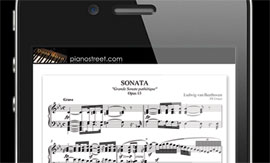 ---
Sign-up now
For instant access to the printable sheet music of
Three Intermezzi by Brahms
and thousands of other classical piano pieces,
sign up
for a Piano Street Gold Membership!
Johannes Brahms: Three Intermezzi
The three Intermezzi Op. 117 are probably the most well-known and best-loved of Brahms's late piano pieces.
The composer described these pieces, all three of which are marked Andante, "lullabies to my sorrows".

The Intermezzi were inspired by a Scottish poem from Herder´s Volkslieder, Lady Anne Bothwell's Lament, and bear this inscription:
Schlaf sanft mein Kind, schlaf sanft und Schön!/Mich dauert´s sehr, dich weinen sehn.
(Sleep softly my child, sleep softly and well!/It hurts my heart to see you weeping.)
Sheet Music Downloads:
Posts in the piano forum about Three Intermezzi by Brahms:

116, 117, 118, or 119?

January 03, 2009, 09:47:29 PM by cloches_de_geneve


I'd like to learn one of these late Brahms cycles, perhaps also to put them on concert programs later on. Anyone who has learned them all, or some or having experience performing them? Feedback most welcome!