Classical Piano Sheet Music to Download and Print

or to View in Your
Mobile Device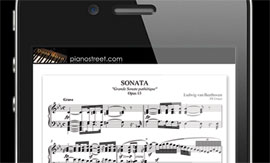 ---
Sign-up now
For instant access to the printable sheet music of
Waltzes (solo piano) by Brahms
and thousands of other classical piano pieces,
sign up
for a Piano Street Gold Membership!
Johannes Brahms: Waltzes (solo piano)
At the time Brahms composed the Waltzes, Op. 39, he had just taken up residence in Vienna.
The Waltzes could be regarded a tribute to two fellow Viennese composers: Schubert, whose music Brahms was in the process of editing, and Johann Strauss, whom Brahms was known to admire very much: he on one occasion lamented that the Blue Danube waltz was "unfortunately not by Johannes Brahms".
The Waltzes first appeared in the four-hand version, then two years later in a version for solo piano. They were dedicated to Dr. Eduard Hanslick (1825-1904), a famous Viennese music critic.
Sheet Music Downloads:
Posts in the piano forum about Waltzes (solo piano) by Brahms:

Brahms Introductory

July 29, 2008, 04:08:01 AM by akonow


My teacher suggested that I start a Brahms piece and I was looking at the waltzes and some Hungarian dances. I want a piece that kind of captures the spirit of Brahms but also challenges my musical and technical skills. Do you guys have any suggestions? Thank you.