Friedrich Burgmüller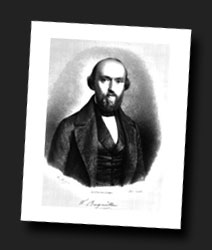 Johann Friedrich Franz Burgmüller (1806-1874) was born in Regensburg, Germany. His father was a composer and musical theater director and founded the Lower Rhine Festival, still an important musical event in Germany.
Friedrich´s brother Norbert was also a pianist and composer, probably even more talented than his brother and father, but lacking their ambition and sociability. After studying with Ludwig Spohr and Moritz Hauptmann, Burgmüller moved to Paris where he stayed until his death. There he developed his trademark, light style of playing and became a fashionable writer of songs and salon pieces for piano. He also composed works for the stage including the ballet La Péri. Burgmüller also went on to publish several albums of descriptive piano studies, mostly intended for children that have become standard works and are very popular to this day. In particular, selections from his Op. 68, 76, 100, 105 and 109 and his "Ballade" have appeared in various educational anthologies. The twenty-five studies Op. 100 include some of his most popular works and the later opus numbers contain some more demanding studies.
Apart from these piano pieces, Burgmüller's most often performed piece is the so-called Peasant Pas de Deux added to the ballet Giselle for its 1841 premiere. This music was originally titled Souvenirs de Ratisbonne, and is still performed today in every production of Giselle.
Burgmüller Piano Sheet Music
for digital devices or to download & print
Total pieces by Burgmüller: 43
ID:7
Forum posts about Friedrich Burgmüller
Studies - Burgmuller by chadefa1
Hi all, I am a beginner (1 year) and going through Burgmuller as a way to improve my technique. I like it because the pieces are easy enoug...