Classical Piano Sheet Music to Download and Print

or to View in Your
Mobile Device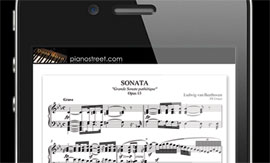 ---
Sign-up now
For instant access to the printable sheet music of
Children's Corner by Debussy
and thousands of other classical piano pieces,
sign up
for a Piano Street Gold Membership!
Claude Debussy: Children's Corner
Children´s Corner was written for Debussy´s three-year-old daughter, Claude-Emma (nicknamed "Chou-Chou"), and bears the dedication: "to my dear Chou-Chou, with the tender apologies of her father for what is to follow."
The pieces are not meant for children to play; rather they are meant to evoke the mood and essence of childhood. The titles, all of them in English, reflect both Debussy´s own affection for England, and Chou-Chou´s relationship with her English nanny.
The suite opens with a light-hearted parody of Clementi's "Gradus ad Parnassum", and closes with "Golliwogg´s Cake Walk", a piece inspired by American ragtime music. Its title comes from a doll, the "Golliwogg", that was popular at the time.
Sheet Music Downloads:
Posts in the piano forum about Children's Corner by Debussy:

Children's corner - recordings available

May 26, 2011, 01:34:36 PM by gerryjay


dear people of piano st.,
debussy's suite children's corner have had several recordings. i'm working on a research about the work and i must locate as many recordings as possible. so, i ask you: what recordings (CD, vinyl, tape, mp3, youtube) of children's corner do you know?

please notice that it is not a request for the recording itself, but the name of the pianist who did it, and further information (date, label, CD code, link) if available.

thanks a lot in advance! it will be mostly helpful.

best!



Debussy's Children's Corner

August 22, 2010, 06:55:32 PM by tds


From CD "Scenes of Childhood" (Teguh Sukaryo, pianist). Jakarta, 2010. Copyright reserved.





Debussy's Children's Corner

June 26, 2010, 01:15:42 AM by tds


Part of my national tour in Indonesia.

Children's Corner by Claude Debussy
Doctor Gradus ad Parnassum
Jimbo's Lullaby
Serenade of the Doll
The Snow is Dancing
The Little Shepherd
Golliwogg's Cakewalk