Classical Piano Sheet Music to Download and Print

or to View in Your
Mobile Device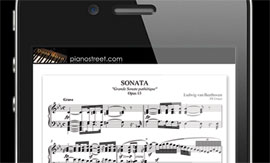 ---
Sign-up now
For instant access to the printable sheet music of
Pour le piano by Debussy
and thousands of other classical piano pieces,
sign up
for a Piano Street Gold Membership!
Claude Debussy: Pour le piano
Begun in 1894 and finished in 1901, Pour le piano was Debussy's first major work for solo piano to be published.
For one contemporary critic the suite had "the force of a programme, if not a manifesto". Another wrote that it was a work dedicated "not to instrumentalists but to the instrument itself."
In Pour le piano Debussy certainly manifests a new and confident command of the keyboard. The prelude's orchestral colours, fortissimo chords and glissandos are truly electrifying. A dreamy and intimate Sarabande, a revision of the Sarabande from Images Oubliées (1894), brings welcome contrast before the energetic and graceful Toccata concludes the work.
Sheet Music Downloads:
Posts in the piano forum about Pour le piano by Debussy:

Debussy's Pour le Piano- Difficulty?

September 12, 2006, 09:04:31 PM by kelly_kelly


I was having trouble w/Moonlight (go on, laugh

)), so my teacher suggested we try some easier pieces. Among others, he suggested Pour le piano (the entire suite, mind you).

From what I have seen on this forum, I must conclude that he has gone insane. Has he? Or have I misinterpeted things?



Debussy "Pour le piano"

January 21, 2006, 01:20:05 PM by vaiva


Also from my recital in 2005.12.15.
Tell your opinion.
Thank's



where can i find this?

July 24, 2005, 06:55:21 PM by patteeheeadidas


does anyone know where i can get free sheet music of Pour le Piano, Prelude,sarabande, Toccota by debussy?

??