Classical Piano Sheet Music to Download and Print

or to View in Your
Mobile Device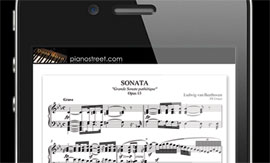 ---
Sign-up now
For instant access to the printable sheet music of
Six épigraphes antiques (solo piano) by Debussy
and thousands of other classical piano pieces,
sign up
for a Piano Street Gold Membership!
Claude Debussy: Six épigraphes antiques (solo piano)
The origin of the Épigraphes is the incidental music Debussy wrote in 1901 to the Chansons de Bilitis, a collection of erotic poetry in the manner of Sappho by Pierre Louÿs (1870-1925).
About fifteen years later, retaining only about half of the original music, he reworked the incidental score (for two flutes, two harps, and celesta), first into a work for four-hand piano, then into a version for piano solo.
Sheet Music Downloads:
Posts in the piano forum about Six épigraphes antiques (solo piano) by Debussy:

Claude Debussy

March 11, 2006, 01:58:39 PM by chris13


Could somebody please advise if Debussy's Six Epigraphes Antiques were originally written for piano, or is the piece I am currently playing (Pour Invoquer Pan, Dieu du Vent D'ete) an arrangement.