Classical Piano Sheet Music to Download and Print

or to View in Your
Mobile Device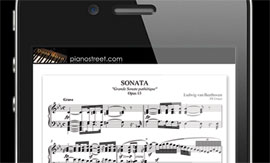 ---
Sign-up now
For instant access to the printable sheet music of
Two Arabesques by Debussy
and thousands of other classical piano pieces,
sign up
for a Piano Street Gold Membership!
Claude Debussy: Two Arabesques
The word Arabesque originally described a style of Arab art and architecture consisting of intricate designs of geometric floral and foliate patterns.
It began to be used in classical music during the 19th century (Schumann) to designate a piece of music that is flowing, decorative and richly ornamented.
Written in the very beginning of Debussy's career (1888-1891), the Arabesques are among the earliest of his pieces to have maintained a place in the recital repertory.
Sheet Music Downloads:
Posts in the piano forum about Two Arabesques by Debussy:

Deux Arabesques-Andante

April 02, 2006, 08:50:46 AM by dark_chocolate


I learn this song a month ago..But i am still confused about a few things
Does this song has to played with a little amount of ff?and where I should use the rubato?