César Franck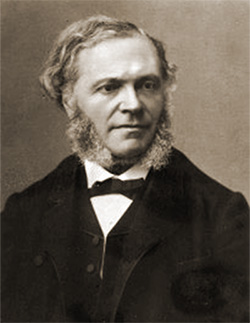 César Franck (1822-1890) was born in Liège, in the French-speaking region of Belgium. He went to France to study piano at the Paris Conservatoire, but eventually gave up a career as a pianist in favour of composing. This led to a strained relation with his father, who had always wanted Franck to become a famous piano virtuoso.
Franck remained in Paris for the rest of his life, playing an important role in the city's musical life, not least as organist in the church Ste. Clotilde, and as a respected teacher with a devoted circle of followers, including d'Indy, Chausson, Vierne and Duparc.

His strong religious convictions, together with a gentle character, led his pupil to nickname him Pater Seraphicus. His organ music is an essential part of that instrument's repertoire, but he also wrote a great deal of piano, chamber, orchestral and vocal music. His wider fame rests on a few compositions written in his later years, especially the Violin Sonata (1886) and the Symphony (1888), and the immensely popular sacred song Panis Angelicus (1972), originally scored for tenor, organ, harp, cello and double bass.
Franck Piano Sheet Music
for digital devices or to download & print
Total pieces by Franck: 20
ID:85