Classical Piano Sheet Music to Download and Print

or to View in Your
Mobile Device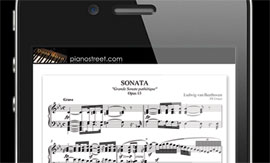 ---
Sign-up now
For instant access to the printable sheet music of
25 Norwegian Folk Songs and Dances by Grieg
and thousands of other classical piano pieces,
sign up
for a Piano Street Gold Membership!
Edvard Grieg: 25 Norwegian Folk Songs and Dances
Grieg's meeting with Rikard Nordraak, the leader of the Norwegian musical nationalist movement, proved very important for the rest of his career. From that moment, Grieg dedicated himself to writing music that would reflect the musical identity of Norway. When Nordraak died in 1866, only 26 years old, Grieg found himself regarded as the leading young musician of his country.

Grieg's 25 Folk Songs and Dances, Op 17, were assembled during this very productive phase in the composer's life, when he also taught the piano, conducted the Oslo Philharmonic Society, and composed his first set of Lyric Pieces (1867), the Piano Concerto (1869) and many other works.
Sheet Music Downloads: