Classical Piano Sheet Music to Download and Print

or to View in Your
Mobile Device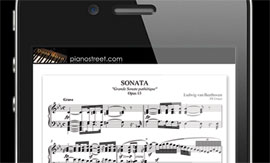 ---
Sign-up now
For instant access to the printable sheet music of
Four Norwegian Dances by Grieg
and thousands of other classical piano pieces,
sign up
for a Piano Street Gold Membership!
Edvard Grieg: Four Norwegian Dances
The Four Norwegian Dances were originally composed for piano four hands, but were later arranged into this two hand version. However, they have become better known in the form of orchestral arrangements by the Czech conductor Hans Sitt. The four pieces, all in fairly straight-forward A-B-A form, work well when played in a sequence, and could be viewed as four movement sonata in disguise.

Most of Grieg's material for these pieces was taken from the composer and organist Ludvig Mathias Lindeman's great compilation of Norwegian folk music, Ældre og nyere norske Fjeldmelodier (Old and New Norwegian Mountain Melodies).
Sheet Music Downloads: