Classical Piano Sheet Music to Download and Print

or to View in Your
Mobile Device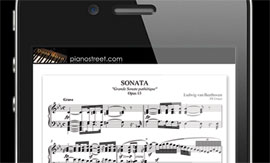 ---
Sign-up now
For instant access to the printable sheet music of
From Holberg's Time by Grieg
and thousands of other classical piano pieces,
sign up
for a Piano Street Gold Membership!
Edvard Grieg: From Holberg's Time
Ludwig Holberg (1684-1754) was a key figure in early Danish literature, but was born in Norway, in Grieg's native city Bergen.
Grieg composed two works for the celebrations of 1884, 200 years after Holberg's birth: a cantata for male voices, now forgotten, and the Holberg Suite, which remains among his best-loved music, especially the arrangement for string orchestra, which appeared in 1885. In order to evoke Holberg's time, Grieg models his work on the dance forms of the French Baroque suite.
Sheet Music Downloads: