Classical Piano Sheet Music to Download and Print

or to View in Your
Mobile Device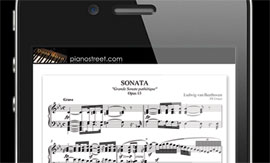 ---
Sign-up now
For instant access to the printable sheet music of
Lyric Pieces by Grieg
and thousands of other classical piano pieces,
sign up
for a Piano Street Gold Membership!
Edvard Grieg: Lyric Pieces
The 66 Lyric Pieces span the whole of Grieg's compositional career and were published in 10 volumes from 1867 to 1901.
They include some of the composer's most popular pieces, such as Wedding Day At Troldhaugen (Op. 65 No. 6), To the Spring (Op. 43 No. 6), March of the Dwarfs (Op. 54 No.3), and Butterfly (Op. 43 No.1).
They include a great variety of styles and moods: virtuoso etudes, melancholy nocturnes, love songs, and pieces inspired by folk music or by nature. Grieg himself called these efforts "an intimate life story", and perhaps one could look at the whole series as a sort of musical diary.
Sheet Music Downloads:
Posts in the piano forum about Lyric Pieces by Grieg:

Help on Grieg

February 08, 2007, 12:07:43 PM by kevin2006


I will need tips on playing his pieces. I am currently working on his Lyric pieces, Op 12.



Grieg's Lyric Pieces

March 12, 2005, 02:35:05 AM by chopinisque


I'm really confused. Which opus exactly is "Lyric Pieces"? Everyone's lists of Lyric Pieces seem to be different. The opus numbers are all different as well...

Also, how hard is To The Spring? It looks pretty simple at the start but all those extra staves are really intimidating.