Classical Piano Sheet Music to Download and Print

or to View in Your
Mobile Device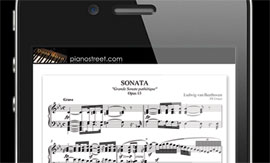 ---
Sign-up now
For instant access to the printable sheet music of
Peer Gynt Suites by Grieg
and thousands of other classical piano pieces,
sign up
for a Piano Street Gold Membership!
Edvard Grieg: Peer Gynt Suites
Grieg wrote incidental music for Ibsen's play Peer Gynt in 1875, but that score was not published until 1908, one year after the composer's death. However, in 1888 and 1891 Grieg extracted some of the movements, creating two Concert Suites which became extremely successful and remain staples of the orchestral repertoire.
The play is about a young, ambitious rake enduring fantastic adventures, eloping with and then abandoning a number of women, meeting trolls, travelling to Morocco and Egypt, being shipwrecked, and finally returning to Norway as a poor old man having to face the sad truth that he is nothing.
Sheet Music Downloads: