Classical Piano Sheet Music to Download and Print

or to View in Your
Mobile Device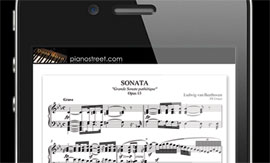 ---
Sign-up now
For instant access to the printable sheet music of
Piano Transcriptions of Songs by Grieg
and thousands of other classical piano pieces,
sign up
for a Piano Street Gold Membership!
Edvard Grieg: Piano Transcriptions of Songs
With the piano transcriptions of twelve Songs, Op.41 and Op. 52, Grieg follows common procedure among Romantic composers: to rework their own, or other people's, songs into expressive and brilliant piano pieces. These collections were at least partly an attempt to satisfy the public's increasing appetite for new pieces by Grieg. Both sets include some of his finest and most popular songs, such as "I love thee" and "Solveig's Song", but also lesser known ones. In these arrangements, Grieg made only minor changes to the melody and harmony of the songs, but gave several of them a richer and more varied texture, so that some, such as The Princess, appear as completely new and quite virtuoso pieces. The Two Melodies, Op. 53, are reworkings of the songs Fyremål, Op. 33, No. 12, and Det første møte, Op. 21, No. 1. They were also published in a version for string orchestra, as were the Two Elegiac Melodies, Op. 34, transcriptions of two tragic songs from Opus 33. The Wounded Heart is a tragedy, conveyed by harsh dissonances and chromatic notes, while The Last Springis in a mood of sad resignation.
Sheet Music Downloads: