Classical Piano Sheet Music to Download and Print

or to View in Your
Mobile Device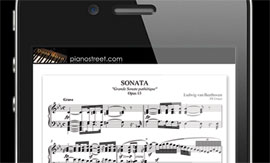 ---
Sign-up now
For instant access to the printable sheet music of
Scenes of Country Life by Grieg
and thousands of other classical piano pieces,
sign up
for a Piano Street Gold Membership!
Edvard Grieg: Scenes of Country Life
The three Scenes of Country Life, subtitled "Humoresques for piano" presents all the elements of folk music, but in a stylized manner, without actually referencing any authentic folk melodies. When Édouard Lalo used the opening melody of Mountain Dance in his "Rapsodie norvégienne" he probably thought it was a traditional tune, while Grieg, in one of his letters, described it as theft. Bridal Procession has always been one of Grieg's most popular piano pieces. It was issued in a separate edition, and soon there were many publications of different arrangements for many instruments and ensembles. The third piece, From the Carnival, is a sort of synthesis or summary of the first two, and features a rare mix of Latin and Norwegian elements - according to Grieg it was partly inspired by the carnival in Rome. Grieg himself often played these quite technically demanding works in concert.
Sheet Music Downloads: