Classical Piano Sheet Music to Download and Print

or to View in Your
Mobile Device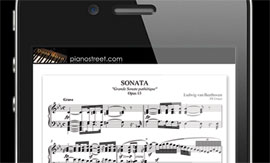 ---
Sign-up now
For instant access to the printable sheet music of
Slåtter by Grieg
and thousands of other classical piano pieces,
sign up
for a Piano Street Gold Membership!
Edvard Grieg: Slåtter
Slåtter (Norwegian Peasant Dances), op. 72, is a collection of folk dance tunes originally conceived for hardanger-fiddle, regarded as the national instrument of Norway at the time. After being contacted by Knut Dale, a master fiddler in the tradition of "Myllarguten" (Torgier Augundsson) and Håvard Gibøen, Grieg decided to arrange for the preservation of these folkdance tunes, because he feared that otherwise they would be lost to future generations. The tunes were notated by another fiddler, Johan Halvorsen, during an intense 2-week session with Dale. Grieg then adapted them for piano, adhering faithfully to the originals. He wrote: "Those who have an appreciation for this sound, will be entranced by their great originality, their combination of light, airy, beautiful, enchanting refinements, and bold, audacious power and untamed melodic wildness, especially in the rhythm. They bear the Mark of a Fantasy that is both daring and bizarre, remnants from a time, when the Norwegian peasant culture was isolated from the outside world in the remote mountain valleys, thereby retaining their primitive origin." "My task of transferring this to the piano was an attempt to lift these folk tunes up to an artistic level through stylized Harmonics. It is in the nature of the matter, that the piano must disclaim much of the appoggiatura, which is an original characteristic of the Hardanger fiddle, and the peculiarity of its bow strokes. On the other hand, the piano has the advantage of avoiding monotony, through dynamic, and rhythmic manifold, and varying the harmonics of the parts that repeat themselves. I have attempted in general to create a structured form, with clear, easy to perceive, lines." Slåtter soon created quite a stir both in Norway and abroad. It seemed to many an important step not only in Grieg's development as a composer, but in the general evolution of piano music. The collection made quite an impression on the young Impressionist musicians of Paris, who referred to this music as "the new Grieg."
Sheet Music Downloads: