Classical Piano Sheet Music to Download and Print

or to View in Your
Mobile Device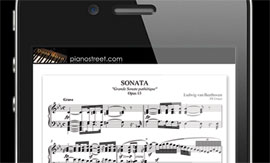 ---
Sign-up now
For instant access to the printable sheet music of
5 Piano Pieces by Liszt
and thousands of other classical piano pieces,
sign up
for a Piano Street Gold Membership!
Franz Liszt: 5 Piano Pieces
The five short pieces catalogued as S. 192 were not conceived as a set, but all were dedicated to Liszt's friend Olga von Meyendorff. They were composed at different times in the period 1865-1879, but only published long after Liszt's death, in 1928 (Nos.1 to 4), and in 1963 (No.5).
Sheet Music Downloads: